Happy Friday, friends! It's that time of year again - it's my Holiday Gift Guide Giveaway!

Over the last few years, I've found myself getting more and more of my gifts online. The crowds at the malls drive me insane, and only add to stress at this time of year. I love that I can just sit in my PJs and click on a mouse and within minutes, I can purchase my gifts.

This year I've found some really great places for gifts that I want to share with you.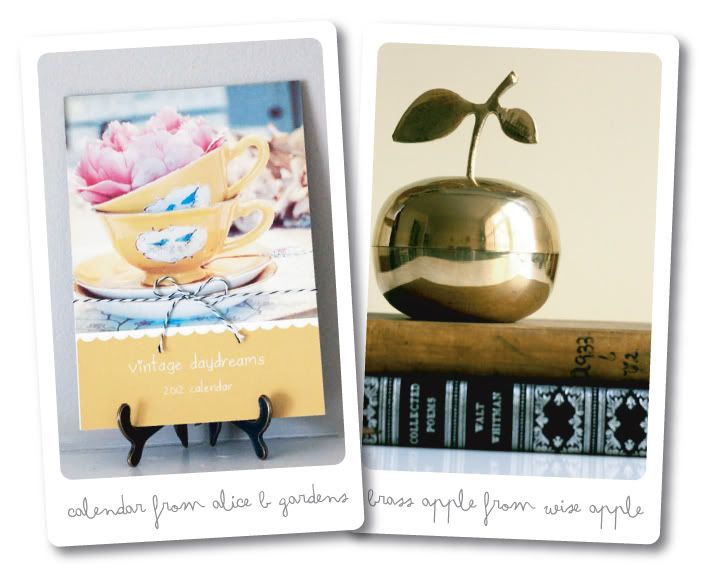 You can never go wrong with calendars - especially beautiful calendars that you'll want to keep even after the year is through. I LOVE the calendars featuring the whimsical photography over at Alice B Gardens. I love the nostalgic colors and retro images.
Of course, being a fan of all things vintage and retro, I am also loving online vintage stores - a recent find being Wise Apple. Nikki carries such lovely barware, home decor and kitchen items. Her favorite thing about this time of year is all the time spent with family and friends, along with family holiday traditions. Her love for vintage is reflected in her love for family traditions - so even if a family member isn't there for the holidays, they are kept close by carrying beloved family traditions of years gone by.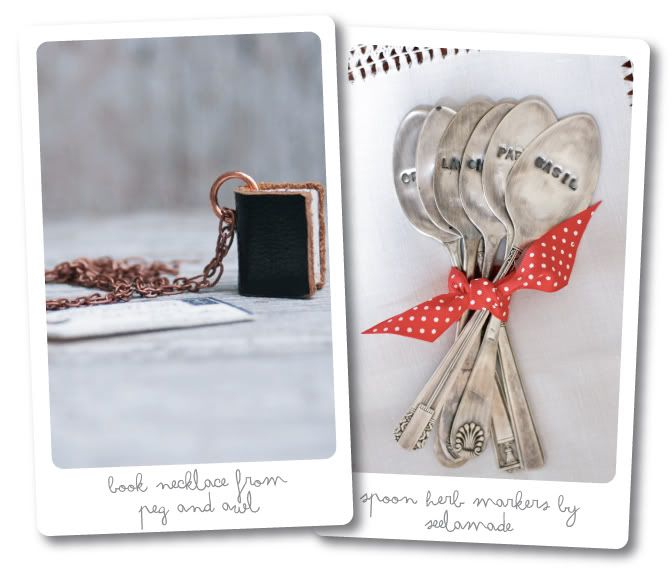 The Black Spot Books make these darling book necklaces over at Peg and Awl. Aren't they precious? Peg and Awl has a great range of treasures made from reclaimed materials. From Bathtub Caddies for your friends who like to read in the bath - to lovely chalkboard tablets, they've got something for everyone on your gift list. Another store that has a great range of repurposed materials is Seelamade. I LOVE her quirky ideas for cakestands - repurposing pie tins as cakestands, and I also love her silverware garden markers!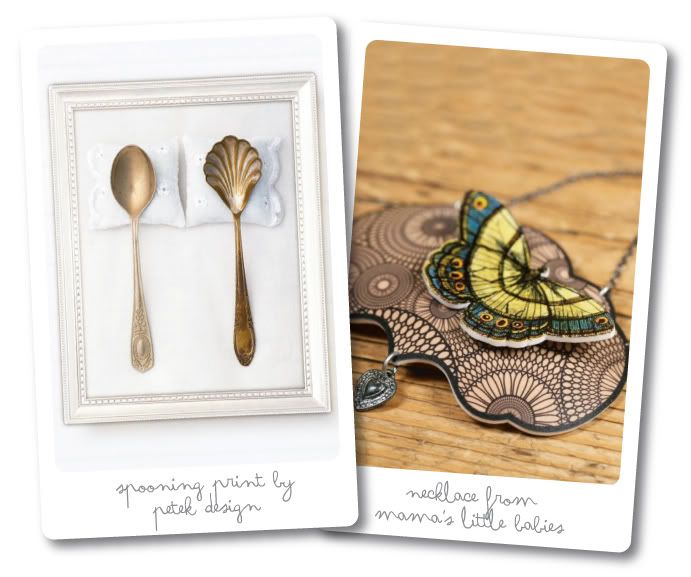 Petek Design is a Tel Aviv-based store and I LOVE their artistic point of view. They offer fantastic wall art, and I am especially in love with the "spooning" series. A perfect gift for a newly-wed couple, or your parents - so lovely! Another store with a great artistic point of view is Mama's Little Babies. Cheri sells lovely jewelry with a quirky twist. I love that she is able to mix beauty and fun all in the one piece. Her jewelry would make such a lovely and thoughtful gift. Speaking of thoughtful gifts - her husband each year gives her what she considers the best gifts - mainly because they are funny and seemingly unthoughtful, hahahaha - barbells one year, a Joe Montana autographed football helmet another year, American Indian Leggings another year... so funny!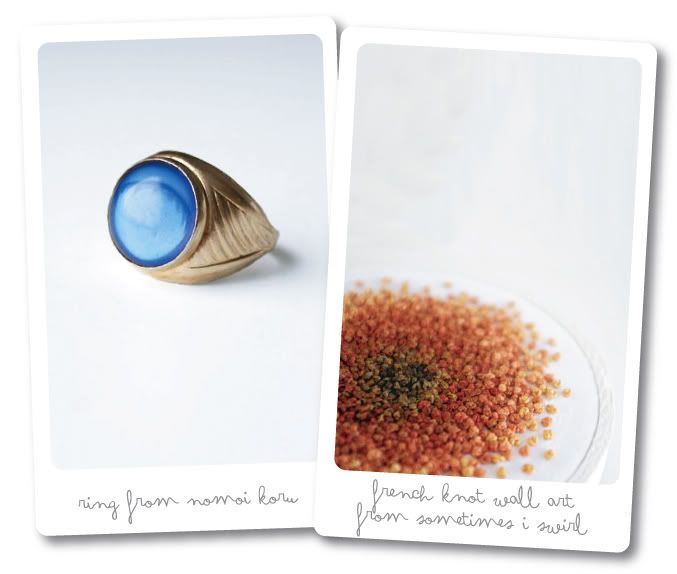 Nomoi Koru is a great stop for modern, minimalist jewelry. I love statement pieces, and this store has a lot of great ones. The owner, Maarit is in Finland, and you can see that great European vibe in everything she makes. Gorgeous! This time of year, along with making her lovely jewelry, her favorite way to spend the season is with her family. Another great store that shares her family sentiments is Sometimes I Swirl. Sarah owns this whimsical store, packed with swirly, gorgeous artwork. Her work reminds me of nostalgic classroom doodles - but only waaaaay better than anything I ever did! I highly recommend checking out her embroidery hoops - I want one for my apartment! So awesome!



Uncommon is a great stop for iPhone lovers. They sell awesome iPhone covers in three different styles with a plethora of different artwork, or you can even customize it with your own. Such a great gift - every third person I know has an iPhone, so it's definitely a gift a lot of people on my list will love!
Spunk by CM is pretty much awesome. This Canada-based store is so awesome that this is their second time on my blog - I love these guys! They have a great range of really unique jewelry for the lads and the lassies in your life. I love that they carry for men too, and not just women. A great stop for your holiday shopping!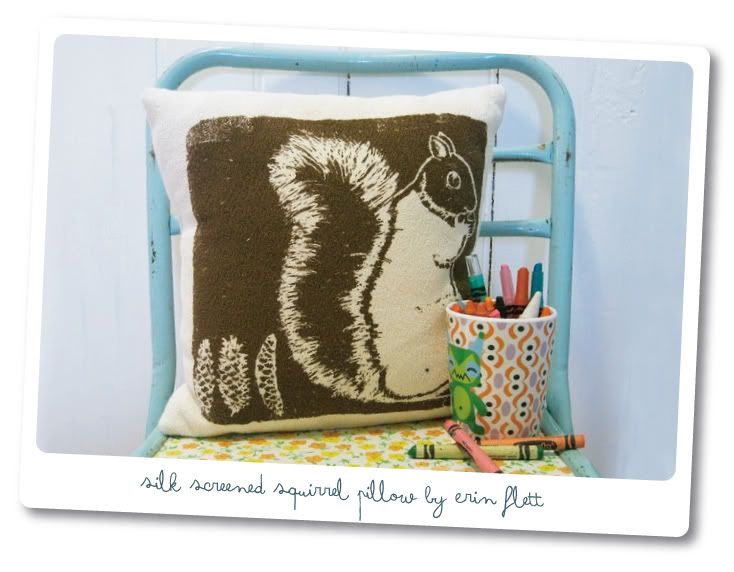 Erin Flett is a graphic designer who made her mark on textiles. Her pillows, bags and wall art are all gorgeous and would make such a gorgeous addition to any space. Her favorite gift that she has ever received was a handmade cushion for a vintage bench that her mother made for her out of vintage bark cloth. It sounds like it runs in the family! :)

These generous stores are giving away one of their goodies to a lucky reader! There will be three winners - two randomly picked from the comments, and a third winner from the City of Dionne Facebook page fans. Three prizes each will go to the two comment winners, and the Facebook winner will receive five prizes. I will announce the winner in the first week of the new year. To enter, please leave a comment here telling me which of these goodies you have your eye on, and also connect up with my Facebook page for a chance to win there. Good luck!