OK, cuff me and take me away to prison - I'm guilty.
Right now I am typing a confession to you, in the midst of committing the crime. I am eating
Crème Brûlée Pie for breakfast.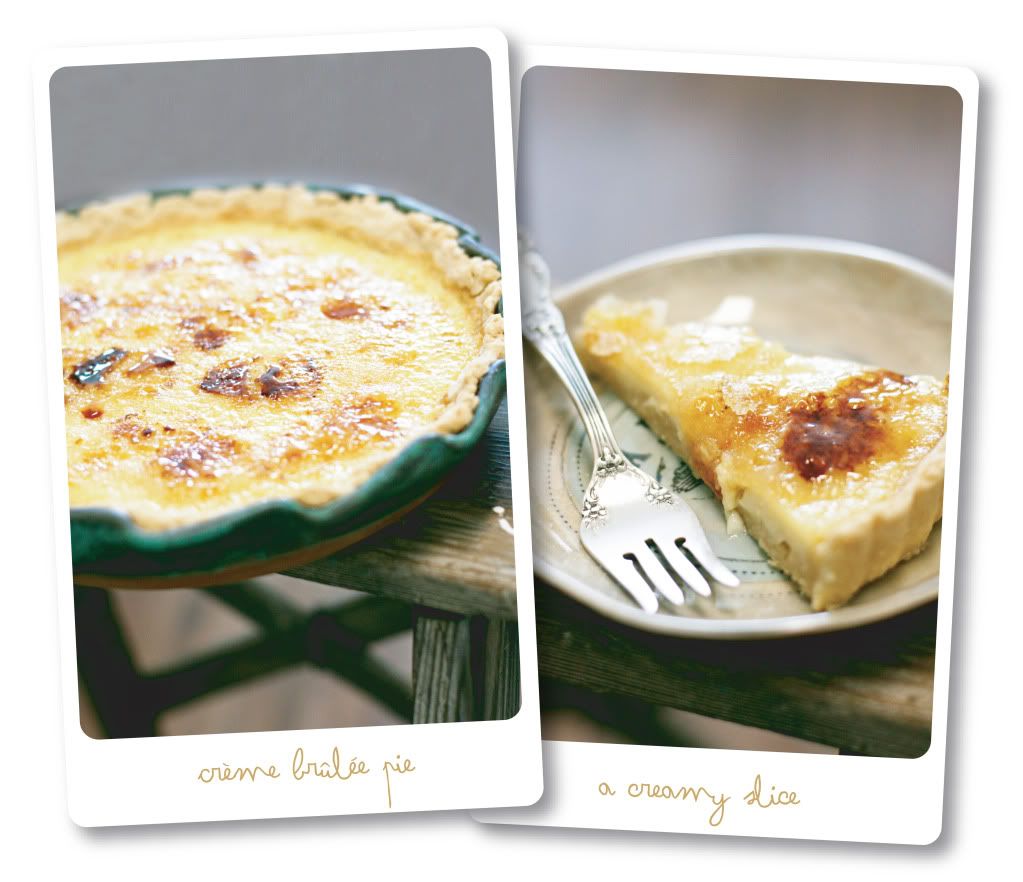 I made some Pavlova and this
Crème Brûlée Pie for a 4th of July Party the other day, but made enough crust for two, so I made an extra pie to keep at home. It keeps calling out to me, and it's been quite hard to ignore. I had found a recipe for it on the Food Network website, but didn't have all the necessary ingredients, so I decided to make one on my own. I make regular
Crème Brûlée often, so I decided to just make some pie crust to hold my usual
Crème Brûlée goodness.

Follow me after the jump for the recipe.



Crème Brûlée Pie
PIE CRUST INGREDIENTS:
- 3/4 cup cold butter chopped into cubes
- 1 1/2 cups flour
-
1 1/2
tablespoons sugar
- 1/4 teaspoon baking powder
-
1 1/2
teaspoons vanilla essence
- 1/3 cup cold water
- 1/2 teaspoon salt


FILLING INGREDIENTS:
- 1 cup milk
- 1 cup heavy cream

- 3 whole eggs, and 1 extra egg yolk
- 1 teaspoon vanilla essence
- seeds from half a vanilla bean (optional)

- 1/2 cup sugar
- 1/4 cup golden syrup


DIRECTIONS:
1. Preheat the oven to 325 degrees farenheit.
2. Mix together flour, salt, baking powder and sugar until combined.
3. Add the chopped butter and mix until it all has the texture of breadcrumbs.
4. Add the vanilla essence and the water and mix until it combines.
5. Shape the dough with your hands until it forms a ball and wrap in plastic wrap, refrigerating for about 45 minutes.
6. Roll the pastry into a flat circle and then line your pie tray with the dough, and prick with a fork.
7. Cover the pie with wax paper and fill with rice and bake for 15 minutes (this is called blind baking. You bake the crust ahead of putting in the filling so that the filling doesn't make it soggy. The rice weighs down the dough so it doesn't rise or bubble up while baking).
8. Beat together all the egg, sugar, vanilla essence and golden syrup and then set aside.
9. Boil together the milk and the cream (and vanilla bean if using), and then gradually pour it in small amounts into the egg mixture. You must do this slowly and gradually so that the egg doesn't scramble. Whisk.
10. Allow the cream mix to cool and then pour into the pie crust (after having removed the wax paper and rice, of course).
11. Bake for 30 minutes or until set.
12. Sprinkle the top with sugar and then blow with a blowtorch to make the hardened sugar top. I think you can also do this by putting it under the broiler for a few minutes.
Enjoy!