A bird had made itself a nest under an awning outside our apartment building the other week. I had seen it fly about gathering things for days. One day, I went to take a close-up peek while it was out finding more things, and realized that the little bird was decorating her nest.




I guess we all like to decorate in some way - some people like things simple and clean, just a few statement pieces here and there, while others like collections - with shelves and shelves of pretties to display.

I had posted recently about how cross-stitch was becoming popular again and came upon this darling shop - Ruggles Stitch.

Owner, Alexia, has an adorable collection of wall-hangings to decorate your nest. With lovely cross-stitched sentiments, and cursive typewriter quotes, her store is the perfect stop for something a little different to decorate your home.




Alexia is inspired by the city of Chicago and all that it has to offer. She also draws inspiration from being in love, her friends, a good book, and of course her cursive typewriter (I want one!!!). Along with soaking herself in inspiration and cross-stitching, she also enjoys watching episodes of Arrested Development, spending time with her family, shopping on Etsy, and planning her wedding (so exciting!!).




Her first Etsy endeavor was listing just one item. It was a needlepoint piece that looked like notebook paper that she'd put in a hoop and stitched "Do you know how much I love you?" on it. It sold immediately, and Alexia was excited that a guy had bought it to give to his girlfriend. It was a great feeling to know that something she loved to make was something that someone wanted to buy and give to someone to show love. That is her favorite thing about her art.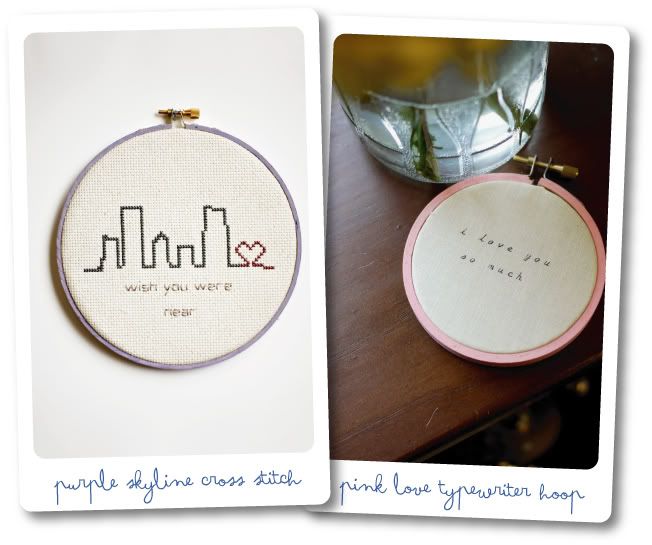 Alexia loves to see people enjoying her pieces, and she is giving one lucky reader one of her creations! To enter,

please leave a comment here telling me something that gives you great fulfillment, and also let me know which of the last three hoops pictured you'd like if you won

. I will announce the winner next week.

(PS. The winner of the Spunk by CM giveaway is Sharon. Congrats!)