Goody Bags.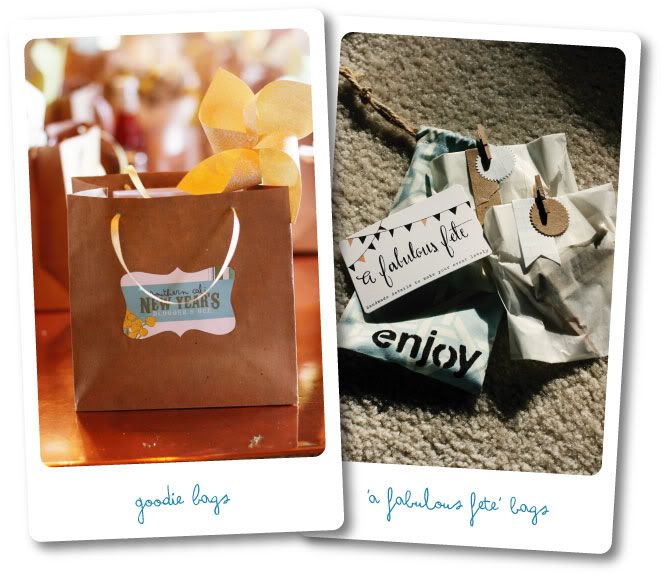 In my previous post, I told you about the SoCal New Year's Blogger's Bee that I hosted the other week. It was so much fun, and as always some very talented, generous Etsians made the whole thing happen, with sellers donating lovely items for each guest's Goody Bag. Here is what was in their stash.

You probably saw the lovely bunting from A Fabulous Fete in my last post. Well Lauren designed some lovely little drawstring bags and inside was a little bunting strand for each blogger, along with some ADORABLE little cupcake flags. Aren't you just in love?!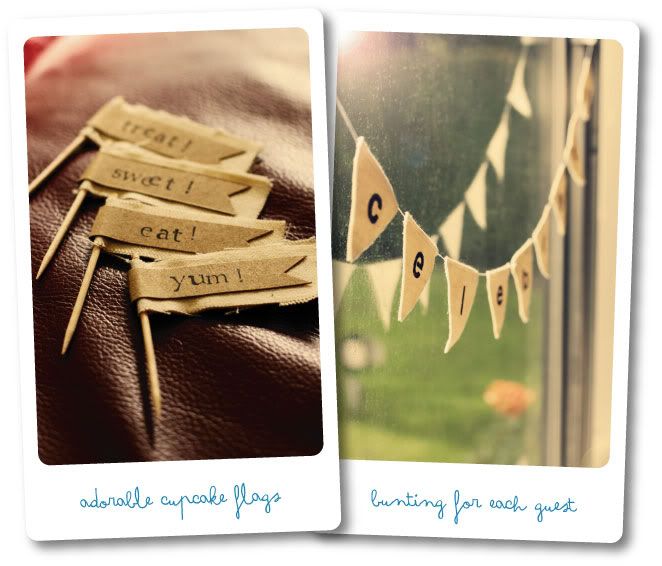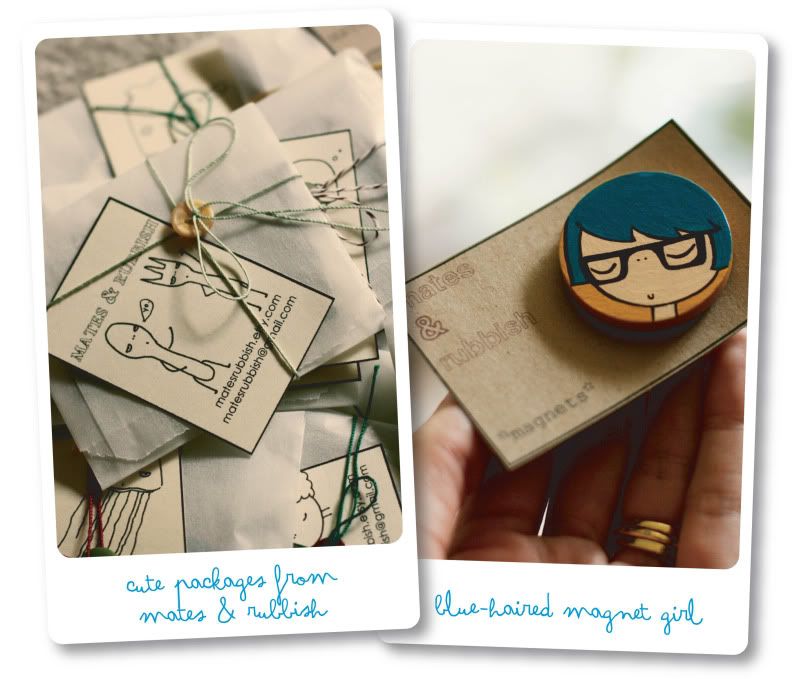 Mates & Rubbish also were bringing their A-game packaging. They contributed the cutest little wooden magnets, each one looked different, and I love the way they packaged them. One of the bloggers that came - Ashley - has lovely red hair, and coincidentally, her magnet featured a girl with red hair!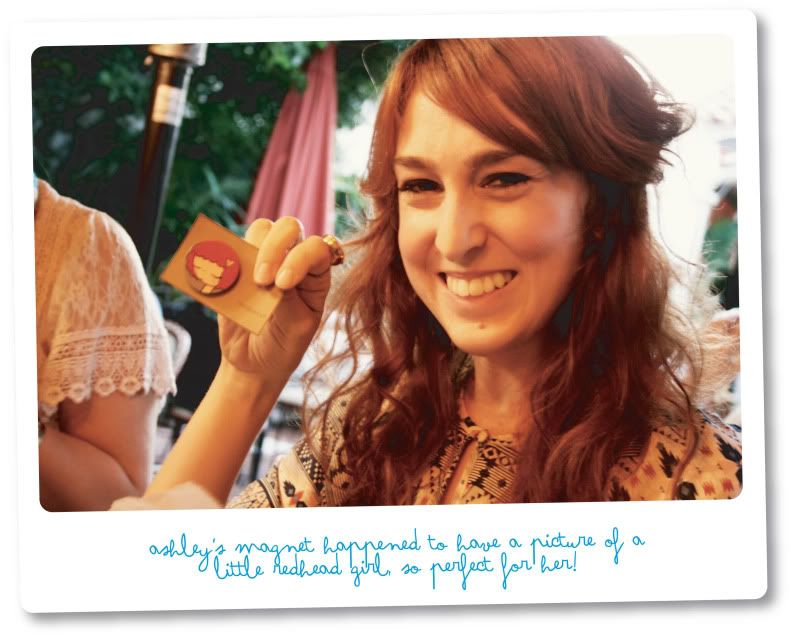 Another store that had darling packaging was Kallia's Wonderland. She donated gorgeous silver ring pendants, and each pendant came in a cute matchbox. Everyone oohed and aahed over it.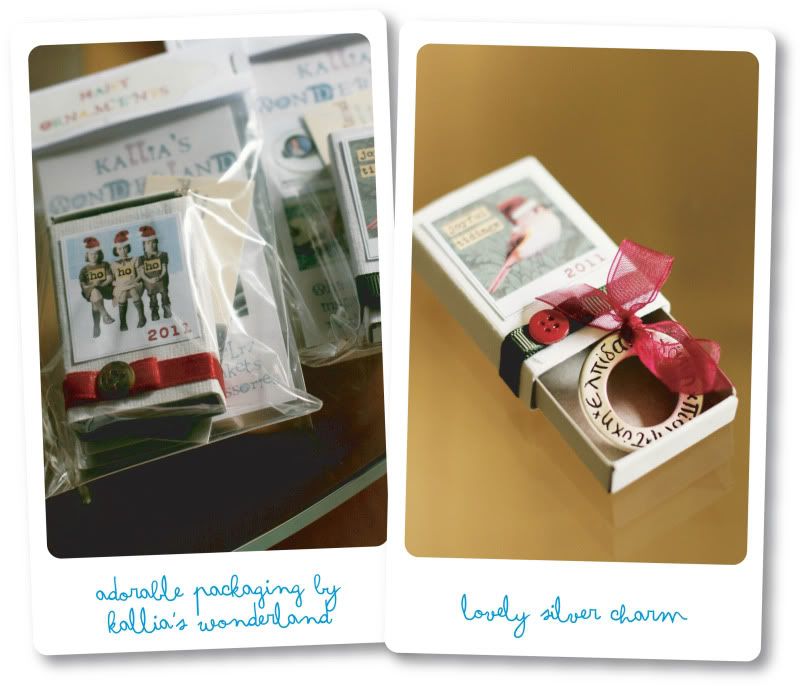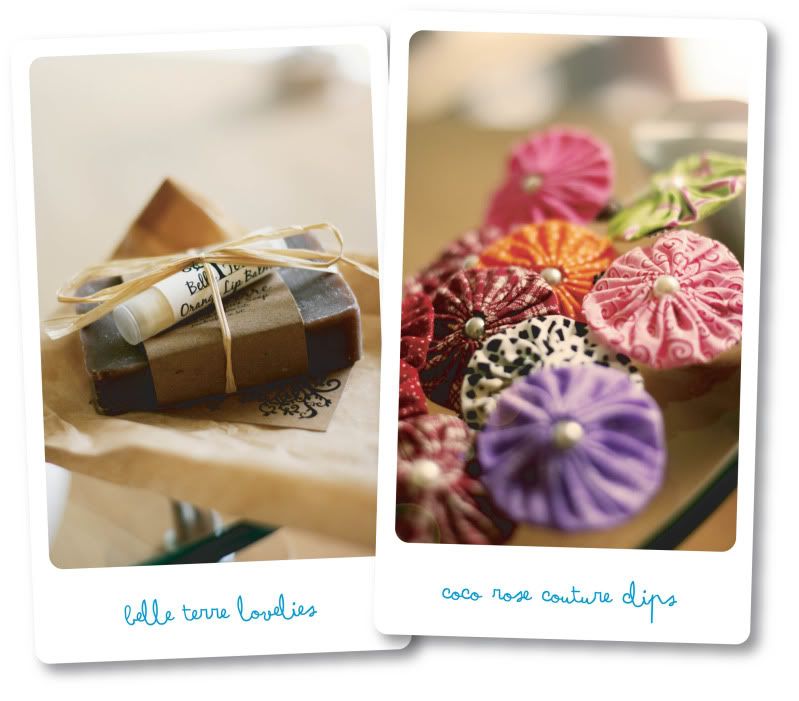 Each blogger also received a lovely set of soap and lip balm from Belle Terre. The soap smelled LOVELY, and the lip balm was perfect for the cold winter weather. Such a great little set. I love that they're all-natural. And another one of the goodies that the bloggers got was a darling rose hair clip from Coco Rose Couture. The colors were absolutely perfect - bright and fun to chase away any winter blues. And they were nice and light, so it didn't feel like your head was being weighed down like you get with some other hair accessories.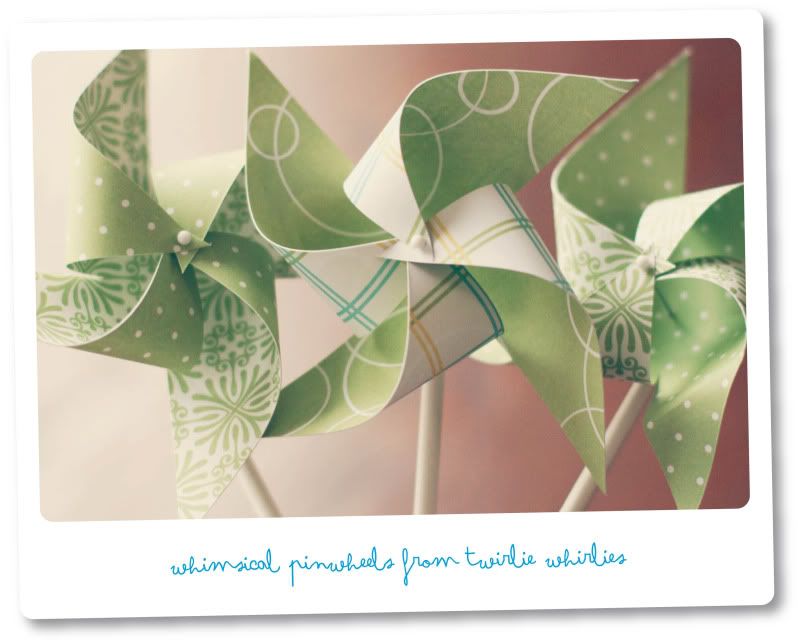 Twirlie Whirlies provided each blogger with whimsical pinwheels in two different sizes. They looked so cute peeking out from each goody bag. And the three little children that were there were mesmerized by their colored spinning. They made such a lovely party favor.



Greece-based photographer Steph Mel provided an assortment of stunning photography prints. I was excited to see the lovely still-life shots and imagining what they would look like framed when I got home. And then there were the beautiful textile brooches from Hey Miemie. They were so delicate and soft and well-crafted. Many of the girls immediately clipped theirs on that day. They seem like something you'd see in Anthropologie, but dare I say better? Yes, BETTER!

And what's a Goody Bag without something sweet? The amazing I Heart Tart provided delightful cake balls for each guest. They were truly delicious, and adorable to look at. They also mailed really well, and were the perfect sweet addition to the bags. In fact, I am craving some right now! And then for the boys, we had Zombie Pops. The perfect un-girly treat for the nice husbands who agreed to tag along with their wives. Starling Skies had such a great idea with these - I think they're hilarious. A fun, unexpected treat.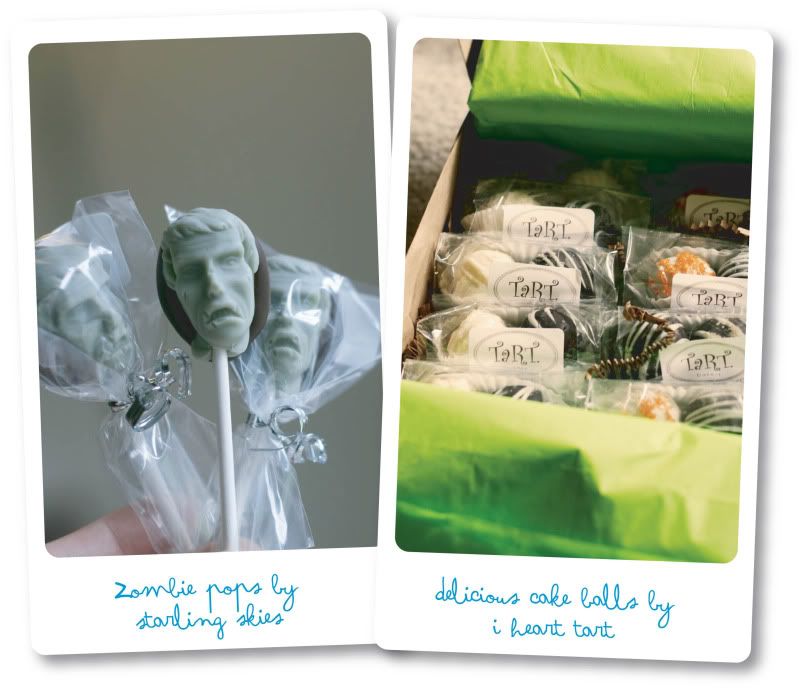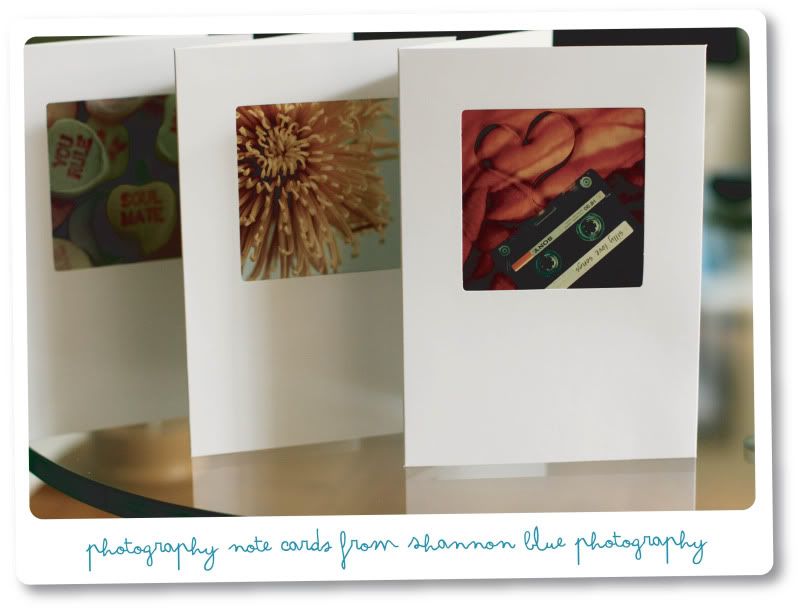 Being a Blogger's social, everyone there likes to write, so I thought that the gorgeous photography note cards from Shannon Blue Photography were perfect! I love the style and imagery she uses. My favorite is this heart tape ribbon one. Isn't it perfect for a Valentine's Day card?

The last prizes were for the Door Prize, and the lucky winner was Tracy. She scored some fun retro-themed kitchen towels from Kitch Towels (don't you love the patterns on them?), a great store for kitchen linens, totes, all with that cute retro vibe. Along with that, she won a charming necklace from Le Petit Foyer, a beautiful store with a great range of lovely treasures.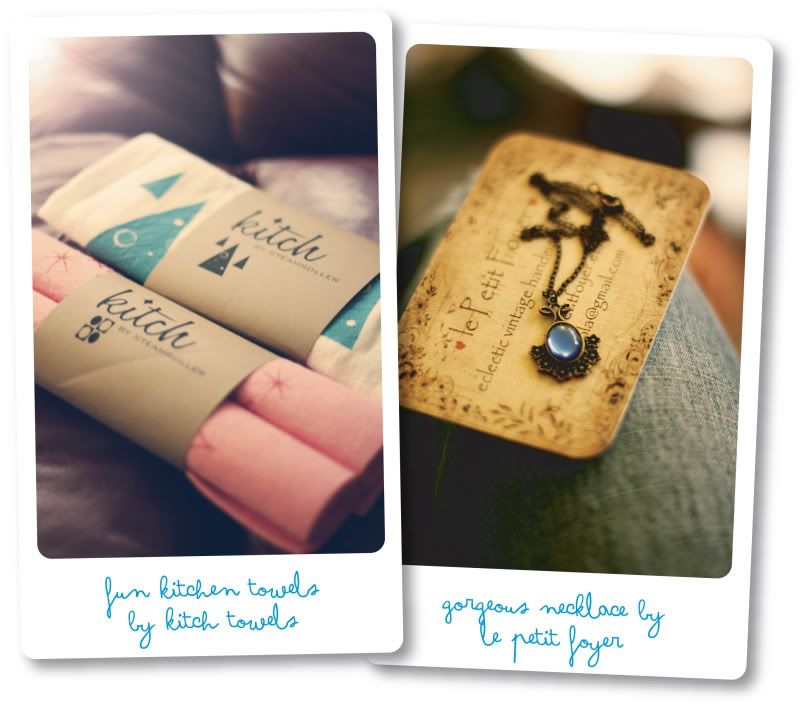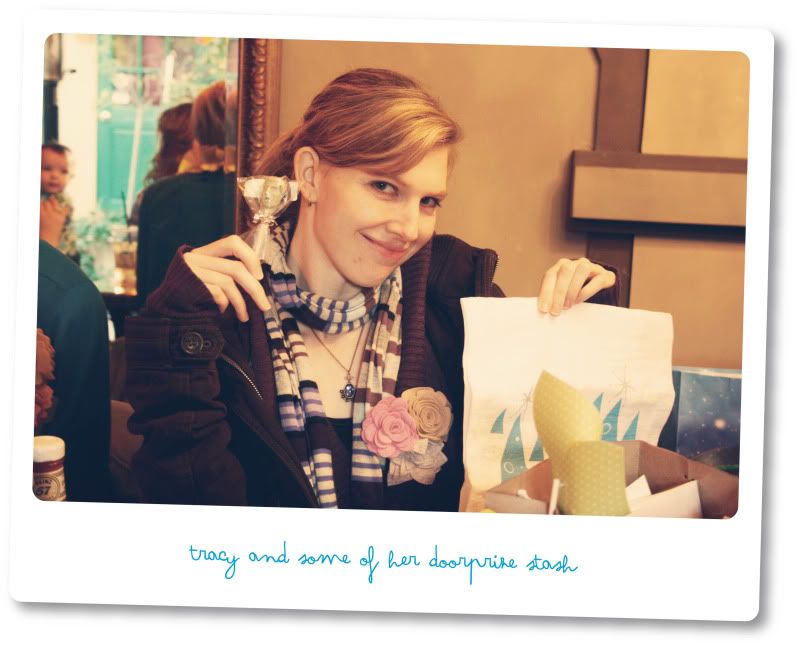 So as you can see we had some terrific sponsors this year! A big thanks to all our great contributors. And you'll be thanking them too because I have two spare Goody Bags to give away. For your chance to score one of these beauties,

leave a comment here telling me how you spent your first day of 2011 (not New Year's Eve, but New Year's day)

. I will announce the winners next week.

(PS. The winners of the Holiday Gift Guide giveaway are Junebug, Oh My Darling, Cars on the Freeway, and Kelly J.R. The winner of the C.C. Creations Giveaway is Shealennon. You have two weeks to claim your prize.)