Among all the wonderful things that I love about Christmas - celebrating Christ's birth, family, friends, Christmas Carols - can I point out one thing that I DON'T like?

Thoughtless gifts. One thing that I don't like about Christmas is that everyone is expected to give gifts, so oftentimes, people just buy any random item to give, without putting any thought into it at all. Obligatory gifts are never fun. However, thoughtful, meaningful gifts are - and that's one of my favorite things about Christmas. Giving well-thought out gifts.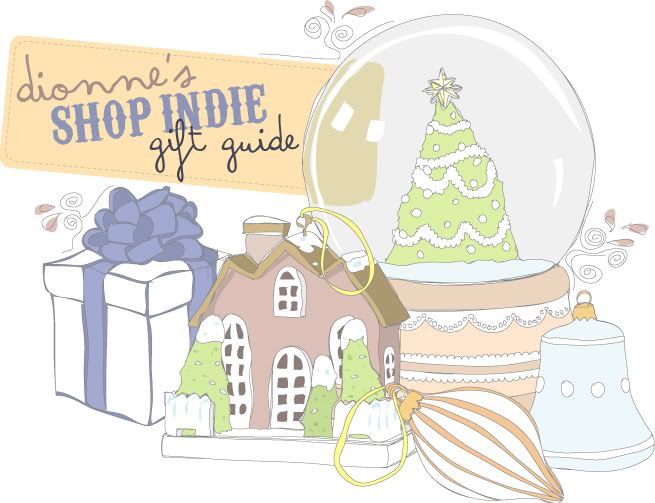 This year, about 40% of the gifts that I have bought have been from Independent stores, so I thought that I would put together a little "Shop Indie" Gift Guide for any of you looking for great indie goodies for your family and friends.





1.

Canvas art by L. Young Studio. Her art is lovely, and each piece pays special tribute to a different American state.


2.

Nature Still Life photography by Miles of Light. I am in love with the simple images of gatherings from nature. I feel like I am looking at a beautiful Botany Book


3.

Fine Art photography by Sarah Moldovan. Her photography is like a slice of a pretty daydream. Her lovely whimsical photography takes me to beautiful childhood memories, and secret romantic rendezvous'.


4.

Home Decor signs from Mooza. I love their quirky restroom signs. They immediately give unexpected character to any room.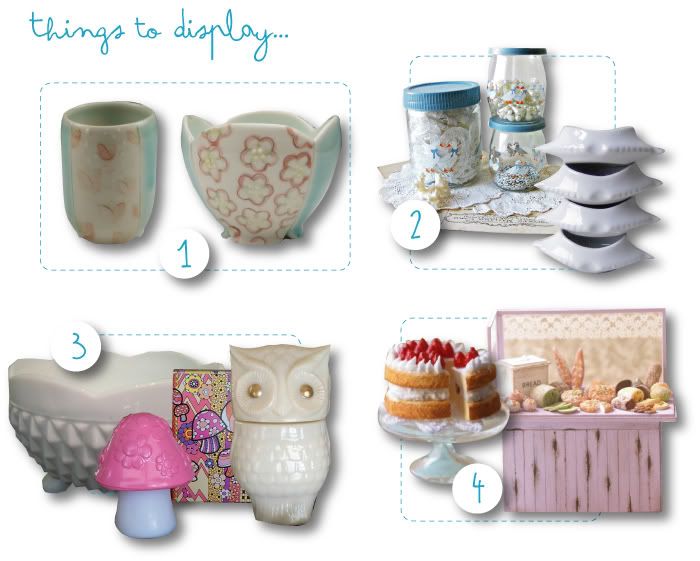 1.

Ceramic Lovelies by Tracy McEvilly Ceramics. The ethereal, soft-colored ceramics would be a gorgeous addition to any kitchen or living space. So pretty and delicate!


2.

Vintage Homewares by La Bestia. I love her tastefully curated selection of homewares. Her vintage store is full of gorgeous vintage finds.


3.

Vintage Knick-knacks from Fabuless Find. The perfect shopping spot for the vintage collector. From vintage perfume bottle collections to sets of vintage greeting cards - this has a great range of vintage collections.


4.

Miniature Pastries from Miniature Patisserie. I love sweets and I love adorable, tiny little delicate things - so of course I am in LOVE with this store.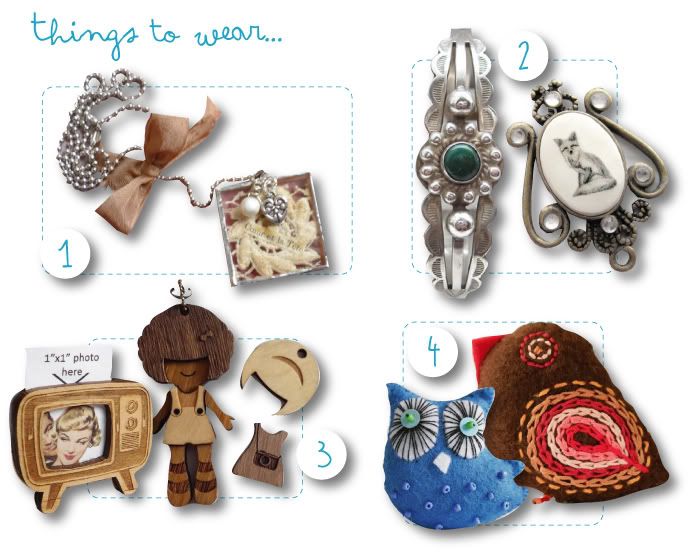 1.

Vintage Jewelry from BeJoyful Vintage. Along with other lovely vintage finds, you can also find gorgeous vintage jewelry here for your friends that enjoy personal, hard-to-find vintage jewelry.


2.

Artistic Jewelry from A Lost Feather. A whimsical gathering of lovely jewelry, I adore her pieces. They combine the beautiful and the unusual.


3.

Laser-cut Wood Jewelry from Vector Cloud. Looking for quirky, fun jewelry for that hard-to please friend? You'll find it in the adorably fun offerings at this store!


4.

Textile Accessories from Moloco. Cute fabric animal pins and brooches along with other textile art can be found at this store. A great selection of cute gifts for friends and family.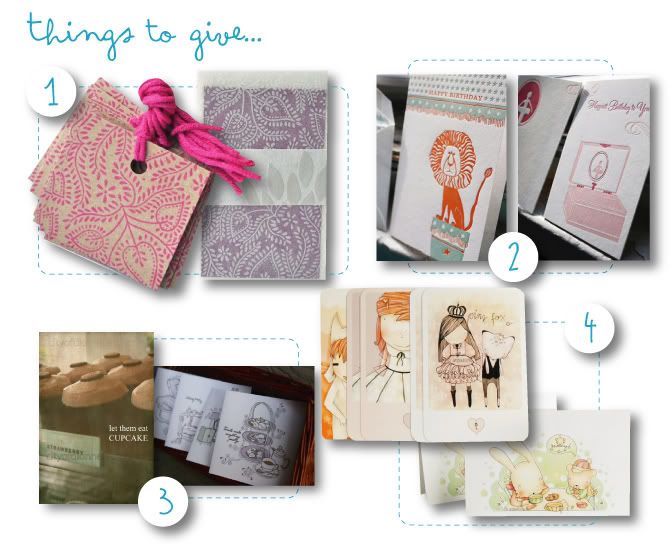 1.

Handmade Paper Packaging from Happy Huismus. What a lovely range of gift-wrapping ideas! Definitely the go-to place for Christmas Gift-wrapping supplies!


2.

Children's Papergoods from My Little Jedi. A darling store filled with gorgeous note cards, memo pads, invitations - you must go see for yourself!


3.

Ermm... and my little store City Of Dionne. Note cards, postcards, photography prints. It's pretty cool ;)


4.

Illustrated art by Atpalicis. Such a charming store where you'll find adorable post cards, prints and note cards.


1.

Handmade Plush Toys from Knitting Dreams. The little bears in this store captured my heart. Children and adults alike would be charmed by a little friend from this store.


2.

Doll Softies from Goodbye Blue Monday. This store carries beautiful handmade doll softies. They remind me of charming children's illustrations, with rosy cheeks, and endearing over-the-eye bangs. A lovely family of dolls here!


3.

Handmade Pillows and Textile art from Dear Adam. Such charming textile art, and huggable pillows. I love the assortment of lovely goodies in this store, all of them perfect pieces to adorn any home.


4.

Apartment Decor from Merriweather Council. OK, I realize that this store fits into several categories - Things to Hang, and Things to Display, but the reason I have put it in Things to Hug is because her Hand-Embroidered Hoops remind me of the hugs ( xxx ooo) I used to draw as a child. I wouldn't just draw a circle, but I would fill them with tiny, mini hearts, that looked similar to this. Such a darling store!

Now for the Giveaway. EVERY store featured in this Gift Guide are giving away something!!! For the specifics on the Giveaway, meet me after the jump.





GIVEAWAY PARTICULARS:



- There will be 4 winners, and each winner will receive one item from each of the five Gift Categories I have here (eg. Things to Hug, Things to Give, etc.)
- You have until January 3rd to enter. I will announce the winner a few days after that when I get back from vacation.
- To enter, leave a comment here telling me your absolute favorite store featured here (excluding City of Dionne) so that I can make sure that you have their item in your loot if you win, and also let me know what you think the importance is of buying indie.



PRIZE PARTICULARS:



L. Young Studio: Canvas art representing winner's state of choice.

Miles of Light: One 8.5 x 11 Calendar of the winner's choice, one set of bookmarks of the winners choice, one 8 x 10 print of the winner's choice, and one set of 6 Feathers Blank Cards.

Sarah Moldovan: One 8 x 10 Heart My Book print.

Mooza: One pair of Male & Female WC signs.

Tracy McEvilly Ceramics: One Small Cup.

La Bestia: A set of Geese Glass Canisters.

Fabuless Find: One Owl vintage Perfume Bottle, and one Mushroom vintage Perfume Bottle.

Miniature Patisserie: One Miniature Box of Macarons.

BeJoyful Vintage: One Handmade Vintage Lace pendant.

A Lost Feather: One Framed Fox Pendant.

Vector Cloud: One Retro Television Pin.

Moloco: Two Bird Pins.

Happy Huismus: 10 tags, 10 giftbags, 10 labels, and 7 meters of wrapping yarn.

My Little Jedi: a $50 gift certificate!!!!!!

City Of Dionne: One Snapshots of Life note card set.

Atpalicis: A set of six Happy Postcards.

Knitting Dreams: Bibu the Little Bear.

Goodbye Blue Monday: One doll.

Dear Adam: One City Cow Pillow.

Merriweather Council: $5 Gift Certificate.