Imagine it's a cozy Sunday morning.

You're lying in bed and hear the pitter-patter of soft rain outside, and when you open your eyes you can see a smattering of rain drops across your bedroom window. The sky is a soft grey. Not dark and ominous, but not bright and cheery either. It that lovely in-between color that makes all the grass look bright green outside.



...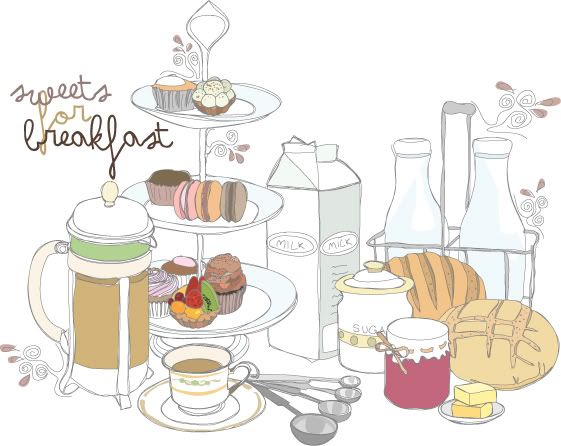 What's on the menu for breakfast?

We've been having a lot of sweet breakfasts lately. I think because I like to bake, I have an abundance of sweet supplies to make warm and pretty breakfasts. French Toast, Waffles, Pancakes, Scones with jam... sweet breakfasts make me think of fairy tales and picnics in the living room, of eating by the window and watching the rain fall down with Frank Sinatra playing in the background...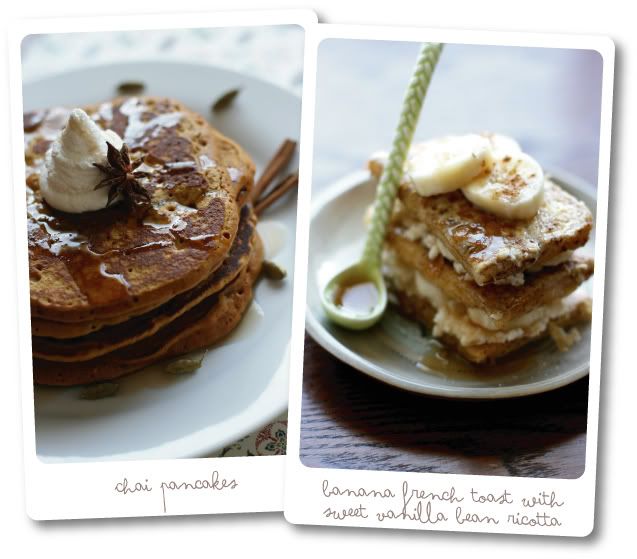 Sweet breakfasts seem like a special treat to me. What was the last sweet breakfast you had?

UPDATE: So many of you have asked about the recipes for these. So here they are - come follow me after the jump!




CHAI PANCAKES





Ingredients:


- 1 cup of milk
- 1 cinnamon stick
- 1 star anise
- 2 teaspoons ginger
- 2 teaspoons ground cloves
- 2 teaspoons nutmeg
- 1 teaspoon ground cardamom
(the above ingredients are for making your own chai from scratch. If you don't want to make your own, you can just use 1 cup of premade chai)
- 2 eggs
- 1 cup of flour
- 5 tablespoons melted butter
- 1 teaspoon vanilla essence
- 3 tablespoons sugar (add more if you like your pancakes really sweet. I like to drench mine in lots of syrup, so I usually don't make my pancakes too sweet since they'll eventually be covered in maple syrup)
- 1 tablespoon baking powder
- a dash of salt



Directions:


- Whisk chai ingredients together until mixed well, and then add the other wet ingredients
- Once the wet ingredients are all combined, add in all the dry ingredients and mix until a fluffy batter is formed
- Fry them up in a fry pan just like you'd fry up regular pancakes



BANANA FRENCH TOAST WITH SWEET RICOTTA VANILLA BEAN FILLING





Ingredients:


- 4 slices of the bread of your choice (each stack takes 2 slices of bread, so this recipe will make 2 stacks)
- 2 eggs
- 3/4 cup milk
- 1 tablespoon heavy cream
- 1 1/2 teaspoon ground cinnamon
- 1 tablespoon butter
- 1 banana
- 8 tablespoons ricotta cheese (each layer of bread has 2 tablespoons of cheese between them)
- 1 vanilla bean (or 1/2 teaspoon vanilla essence if you don't have beans)
- 4 tablespoons brown sugar
- icing sugar to dust
- maple syrup for drizzling



Directions:


- Beat the eggs until fully incorporated and then add the milk, heavy cream, half the brown sugar and cinnamon and whisk
- In another bowl, whisk together the ricotta with the remaining 2 tablespoons of the brown sugar and the vanilla
- chop your banana into slices at whatever thickness you desire
- If you want them to look like mine, cut off the crust from your slices of bread
- Heat the butter on a frying pan and then dip each bread slice into the egg mixture to coat both sides
- Fry each side of the bread until golden
- Remove bread from pan and cut in half
- Take your ricotta mix and slather it over one of the French Toast halves
- Then add slices of banana
- Then top with another French Toast half and continue to layer like the first one
- Once your stack is complete, dust it with icing sugar and finish it off with a few slices of banana and a generous drizzling of maple syrup

Happy Sweet Breakfasting, my friends!