I have now been baking and cooking for a little over two years.

I remember the first time I ever baked in my life was just a few days before my wedding in October of 2008. I can't believe I had gone so long without ever having opened an oven door! I had cooked before, but perhaps only three of four times was it anything more than "bachelor-style" cooking that only required boiling water, dropping pasta, and a jar of store-bought pasta sauce.

Since getting married, I decided that I wanted to really get into cooking and baking - and have fallen in love with it. After photography and graphic design, it's one of my favorite hobbies. I really enjoy coming up with my own recipes, and also like to discover recipes online that have a fun twist to them.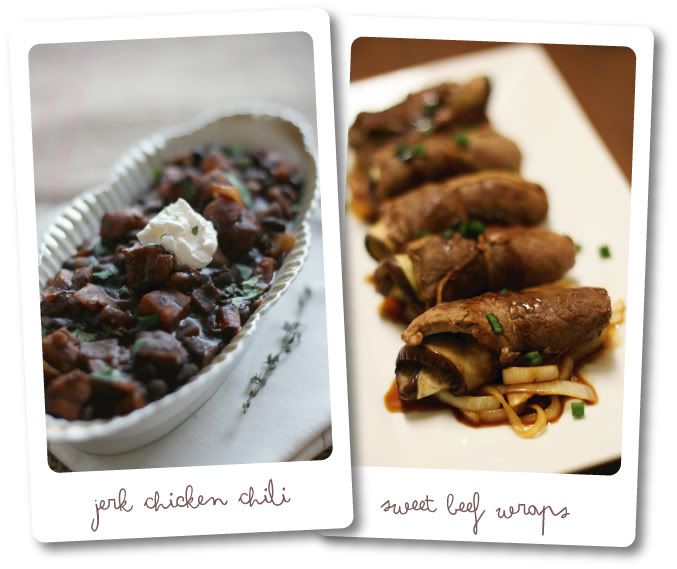 I made the Lemongrass Vanilla Bean Pannacotta specifically for a dessert contest hosted by Cathay Pacific Airlines. I had originally wanted to make it more complicated and detailed, but one of the criteria for judging is that the dessert can be easily served on a plane, so I decided to keep it simple. I would LOVE it if you would vote for my dessert!



To vote, all you have to do is:




1. "Like"

Cathay Pacific

on Facebook.




2. Go to the

Art of Dessert

Tab.


3. Find my dessert in the

Recent Submissions

section and "like" it.

I just entered last night, but the contest has been on for about a month, so a lot of entries have a big head-start over mine, so please vote to help me advance in the contest to the next round. Thanks, guys!

For those of you interested in these recipes, I can't take credit for the Jerk Chicken Chili recipe (i found it here), and the Beef Wraps are easy - I just tenderized some beef, fried up some eggplant in garlic and salt, rolled up the beef with the eggplant and tied it with baker's twine, and then carmelized the beef in a pan along with some onions. Soooo simple and sooooo good!