Textiles, ribbon, lace, textured fabric, pretty pattern... I wish I could sew well! I can sew to fix a hole in a shirt, but I am yet to master the art of creative sewing.



......


Lita from Downtown Girl Designs has it down nicely. Her adorable Etsy store features charming pouches, pockets, clutches and purses - all sewn together with love, and in pretty patterned fabric. Each little piece seems to tell me a story, either a romantic little sonnet, or a whimsical fairy tale.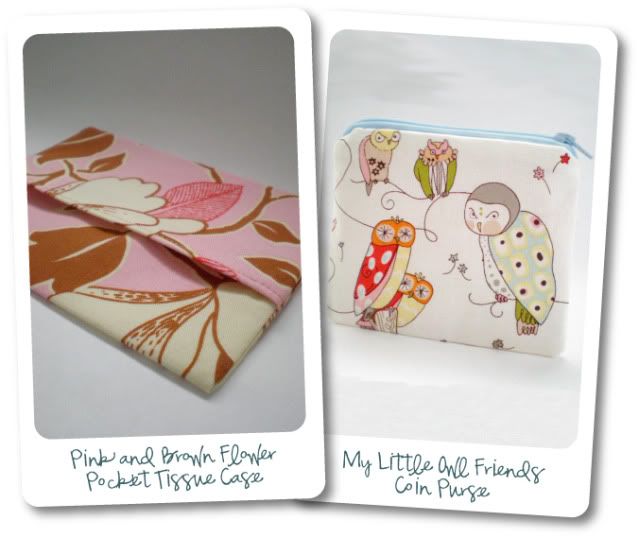 Lita's pieces are inspired by vintage pretties, good books, and most especially - her baby daughter. In addition to sewing, she enjoys cooking and entertaining guests, as well as traveling this great big world we live in. Lita also told me that she is in love with shades of pink and light blue. She finds them calming, and has incorporated these colors into her home, with a pink sewing room, and light blue being the main color of the rest of her home. And speaking of loves -
I absolutely love the Little Owl Friends pouch above!


Like a good friend, Lita started out sewing gifts for her friends and family. Every time she made something, people requested her to make special items for them. After a while these orders grew, and her friends suggested that she open up a shop. As well as Downtown Girl Designs, Lita also opened up two other stores - Downtown Girl Vintage and Max and Olivia. These two stores are equally as charming as our featured store.


Lita's loves also include sweets. Her sweet tooth often leads her to vanilla flavors, with a very special weakness for cupcakes and carrot cake.
Our lovely Lita is generously giving one lucky reader a $30 Gift Certificate to Downtown Girl Vintage. To enter this giveaway,

leave a comment here telling me about what you like most about sewn goodies

. I will announce the winner on Sunday.