Don't you just love the versatility of white?

It can be glamorous, shabby, vintage, chic, contemporary, simple, luxurious. It really is an integral part of any style, whether it be interior design or fashion.




White to me symbolizes pure and fresh. A clean slate, a new day.

Perhaps that's what draws me to the Etsy store Villarreal Ceramics. Vanessa's gorgeous ceramic art is luminous. Each piece has an ethereal, gentle glow to it - it makes me want to decorate my home in subtle white and grey tones, with walls of shelves filled with her gorgeous ceramics.




Vanessa first heard of Etsy from friends that were enjoying selling their own items on this platform. Vanessa had just finished art school and at the time wasn't ready to start her own store - but years later when she moved to Montreal, she had initial struggles learning French and couldn't find a job, so she let her creative juices flow and got back into ceramics, and then Etsy. Her next big step will be moving to Arizona.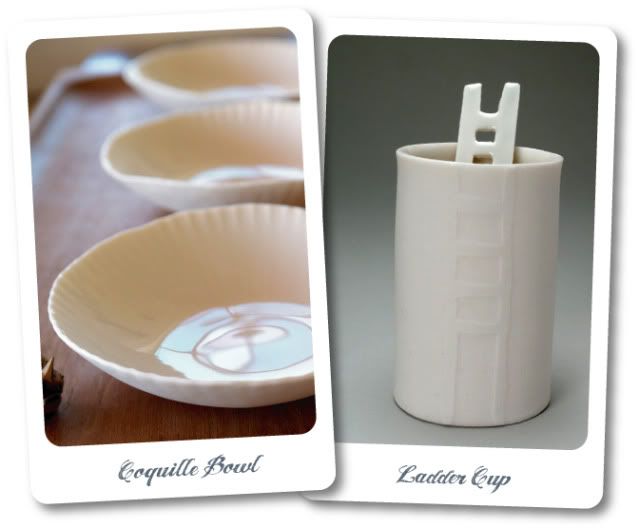 This moving from city to city has really inspired Vanessa's work. Trying to find the meaning of home despite all her traveling is an important inspiration to her, and the contrast of settling and escaping plays an echoing theme in her creations. She features a lot of images of houses and gardens which represent home and comfort, and then on the other end of the spectrum she depicts birds and ladders which speak to wandering and searching. Accompanying her inspiration from home, she is inspired by textiles - patchwork and weaving and the stories they tell.
As well as her ceramics, Vanessa enjoys gardening, thrifting and the colors of celery and raspberry, along with all shades of grey.




Vanessa is generously giving away a pair of Northwest Sipper Cups to one lucky reader.

To enter, please leave me a comment telling me a few places you've lived - and if you've only ever lived in one place - tell me your favorite thing about home.

I will announce the winner on Sunday.