Let's get down to business shall we?

Bread Business, that is.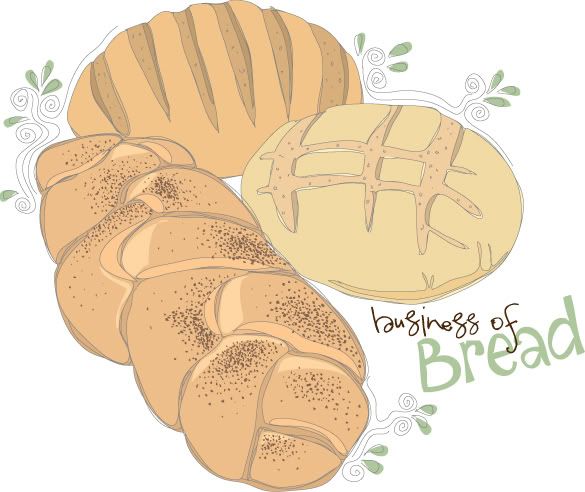 There is no food more fundamental than bread. It pops up in every culture, in every country, and it can be as fancy or as plain as you like. I went for one whole year without eating bread (it used to upset my stomach), and will never do it again.

Whenever I go Grocery Shopping, along with milk and eggs, it's one of the first things on my list. But every now and then I like to bake my own. On Tuesday I made my own Garlic Bread. Michele mentioned to me that it looked like Foccacia, and when she said that, I realized that it had the density of foccacia bread, so I've officially named it my Garlic Focaccia Bread.




Here's the recipe if you'd like it:




Dionne's Garlic Foccacia Bread:



Ingredients:
- 2 1/4 Teaspoons Active Dry Yeast
- 1 Teaspoon Sugar
- 1 1/2 Teaspoon Salt
- 1 Teaspoon Oregano
- 1 Teaspoon Thyme
- 1 Teaspoon Rosemary
- 1 Teaspoon Garlic Powder
- 2 Tablespoons Olive Oil
- 3 Cups All Purpose Flour
- 1 Cup of Room Temp Water
- 1 Cup shredded Mozarella Cheese
- 1/2 Cup shredded Parmesan Cheese
- 4 Tablespoons melted Butter
- 5 cloves of Garlic
- 1/4 cup Fresh Parsley

Directions:


1.

Dissolve the Yeast in the Warm Water for about 5 minutes, and then add the sugar and stir. Leave for 15 minutes until you see foam appear.


2.

Add Rosemary, Thyme, Oregano, Garlic Powder, Oil and Flour, and only one Teaspoon of the Salt, mixing until the dough is smooth.


3.

Cover the bowl with a damp towel and leave to rest for 15 minutes.


4.

Preheat the oven to 450 degrees F


5.

Brush a round cake tin with oil, and then place the dough into the pan, smoothing it out to cover the entire bottom.


6.

Cover the top with the cheeses, and more spices if desired.
7.

Bake for 15-20 minutes until cheeses are browned on top.


8.

While bread is baking, crush the 5 peeled Garlic Cloves and mix with the Melted Butter.


9.

Chop the Fresh Parsley finely, and add to the Garlic butter mix along with the salt and stir.


10.

When the bread is finished, remove from oven and spread the Garlic Butter mix over the entire top.


11.

Turn the temperature down to 350 degrees F, and bake for a further 10 minutes.