There's nothing wrong with some good old, healthy competition.

And that's where my lovely friend Eric comes in. As a lot of you know, Eric was the person that convinced me to get into blogging, so without him I would be blogless. His is the first blog I ever followed, and is by far one of my favorite stops on the web, with his witty observations and takes on his Los Angeles lifestyle. I met him when he crashed one of my birthday parties a few years ago, and I have adored him ever since.

We're having a Blog Challenge, where we each give one another three topics to post about on our blogs.

We would love if you guys would read both of our posts and let us know which one wins

(i am totally ok with you picking, Eric, so don't be afraid if you like his best).

Here is

his. Eric (being the fantastic guy that he is) has given me the topic of "My March Madness Bracket" for today's post. A subject that I knew nothing about before this challenge.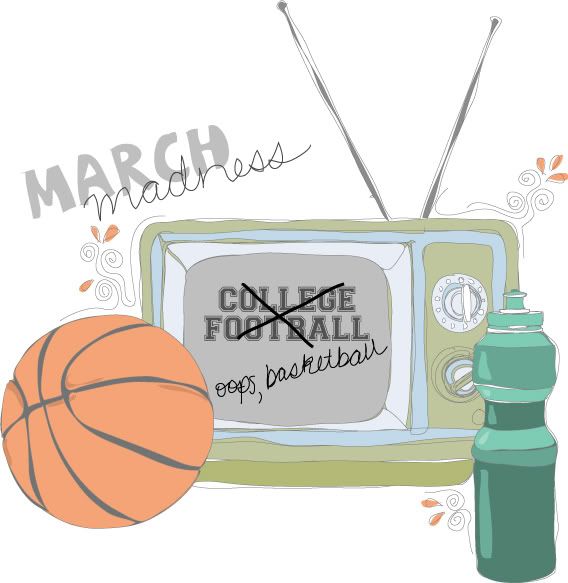 To me "March Madness" sounds similar to the "Winter Blues", but for March. I imagine people with March Madness to be people that live in colder states that aren't getting Spring Weather just yet like the warmer states are. Of course I was clueless about it because

1. I am Australian

and

2. I don't care about watching sports

. But now I know that it's the National College Athletics Association's Basketball elimination tournament. And Eric has challenged me to pick which college teams are going to win each round. So folks, here are my completely uneducated picks, and the reasons I chose them (none of which are informed or well-educated reasons).

(See my Bracket here, and my reasons after the jump).


I am only going to list my reasons for the final four teams and the winner, because it would take forever to list my reasons for every round:



Houston vs San Diego

= San Diego. I love you Houston, but it gets so humid out here. I imagine Houston players to be really stinky and sweaty.


Syracuse vs. Oakland

= Oakland. I used to watch a sitcom called "Hangin' With Mr Cooper", and he was a Basketball Coach from Oakland, so I forever associate Oakland with Basketball.


Texas vs. Washington

= Hello, I live in Texas. I choose Texas.


Villanova vs.Texas A&M

=
Even though Villanova sounds like a lovely Italian Villa Resort, I have to choose
Texas A&M. I know lots of Aggies, and they are gung ho!

So I guess I think the final four should be:
San Diego State, Oakland, Texas and Texas A&M. And you know why? Because I LOVE Cali AND Texas, and would love to see them battle it out. I don't know why I always make the things I love compete for me. I once held a mini-olympics type event for two different groups of friends to compete to see who was the best. Eric was in it, and the team he was in won.

And the final team will be SAN DIEGO. I pick them because I prefer their little Matador logo over the Texas Longhorn symbol. Matadors are usually more graceful and have more gusto.

Don't forget to stop by Eric's post and see what he says about the topic I assigned him here.