So we are quickly approaching Valentine's Day. A day that is just as much loathed by people as it is loved.

You can probably tell just by looking at my blog that I LOVE Valentine's Day. Yes - I am that girl. I love flowers, frills, romantic comedies, fairytales, anything to do with love and the fanciful.




But I have always liked Valentine's Day. Even when I was single. To me, it's not JUST about romantic love. A lot of people complain about how here in America, children exchange Valentine's gifts in school - they say that it's teaching commercialism to kids. I actually think it's great because it shows children at a young age that Valentine's Day is about ANYONE you love. You don't need to be married or in a relationship to care about people.

There are people who complain that Valentine's Day is silly, that we should be like this every day - but in reality - not everyone is. Sometimes it takes a holiday like this to remind folks to show the people that they love that they appreciate them. For some people Valentine's Day is the only day of the year that they get this kind of attention - so any holiday that celebrates love is good in my books.

Alice from Piggy shares my love of the whimsical and romantic. She has a beautifully quirky store with jewelry to cater any taste. She told me that all her jewelry is inspired by fairytales and music, and that when she's not making jewelry, she loves to explore little cafes tucked into corners.
Her eclectic mix of jewelry range from Hello Kitty inspired pieces to dainty little lockets that remind me of a Jane Austen book.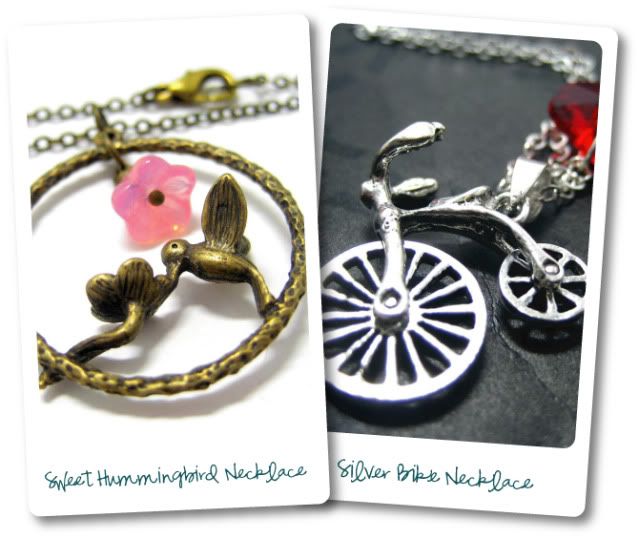 Alice is generously giving away a lovely piece of jewelry to one lucky reader.

To enter, please let me know which you would prefer to win:

1

,

2

or

3

,

and also let me know what you like or don't like about Valentine's Day.

I will announce the winner on Sunday.