I'm back! Happy 2010!!!!

Our Holiday to California was WONDERFUL. It was so much fun, and great spending time with family, catching up with old friends, and meeting new ones.

I am sure you are all interested in hearing about the Winter SoCal Blogger's Brunch, so I will get right to it.

Although it was the middle of winter, you'd never know it. It was in the mid to late 70's, so it was absolutely perfect for a lovely outdoor brunch at Aroma Cafe in Studio City. I reserved a table under the awning, and it was such a pretty little corner of the patio.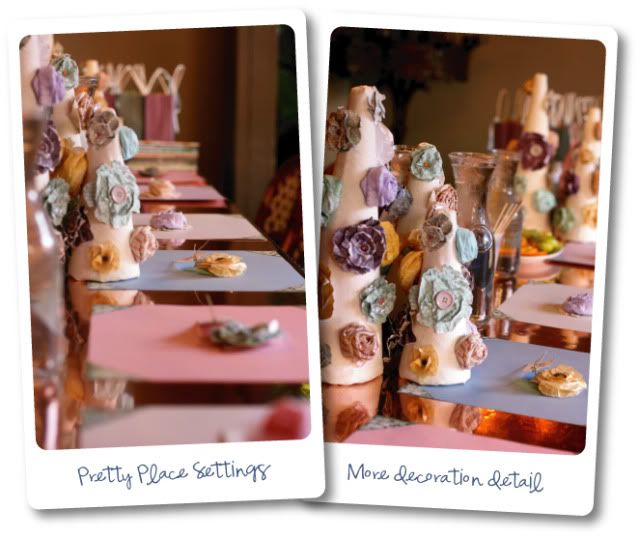 Brian and I got there half an hour early to set up our table. I was a little nervous, because I had been planning this event for months, and was hoping that everything would turn out perfectly. I had been talking with the awesome Lindsey and her partner Amanda from the lovely Etsy store Blackbird Blue and You, and she generously donated all the lovely flower tree centerpieces, and some gorgeous flower place cards.


Aren't they amazing? I was so blown away by how whimsical and pretty each piece was. Obviously a lot of effort and detail was put into each piece. If I could do my wedding all over again, I would definitely be turning to Blackbird Blue And You for decorations. Everything was just so soft and absolutely perfect for our SoCal Winter theme.




Over the last few weeks before the brunch, I made little Keepsake Booklets for each guest. It was a fun little project, and they matched Lindsey's flower decorations nicely. I was really happy with how everything turned out.


The first bloggers to arrive were Tracy and Kristy. Tracy was every bit as cool and spunky as I thought she would be. She was such a riot to talk to, and totally down-to-earth. I also noticed that she has the nicest eyes. Kristy was a sweet-heart. Really friendly, with beautiful long dark hair, and smiling the entire time, she was definitely another blogger that I am glad to have met.

Carissa was next to come, and she was absolutely lovely. She was tall and gorgeous, and we bonded over complaints about our men playing video games for too long, hahaha. It was great to finally be able to meet her! It was interesting to hear her stories of celebrity encounters through her job, and embarassing moments with her boyfriend's friends. After Carissa came Ashley, who is the cutest, most daintiest little darling you'll ever see! She was sweet and extremely endearing. I just wanted to put her in my pocket and take her back to Texas with me!

And of course there was Maggi. You all know Maggi by now with her soft curls and sprinkle of darling freckles - she's one of my favorite bloggers ever, and also happens to be a personal friend of mine from outside the blogging world. She was her usual bubbly, sweet self, and it was wonderful to have her there - blogging and Maggi are synonymous to me, so it wouldn't have been the same without her.

In addition to me and the other bloggers, Brian was there to help me out, and thankfully Maggi's awesome husband Steve was there to keep Brian company. It was a great time with great food. Like last time, lots of generous Etsians donated items for the Blogger Goody Bags, and you will have a chance to win one soon. I will post more about the sponsors in a future post.

Once again, a HUUUUGE thank you to Blackbird Blue and You. Please head on over to Lindsey's store and check out her amazing creations.

(see here for more photos of the event).