Lately I have been a little homesick.

Australia at this time of year is stinking hot, so Christmas is so different back there than it is here in the US. Not that I don't love the winter Christmases in the US, but I haven't been back home in seven years, so I am missing it.




While I do consider California home (where I lived before Texas)- Australia is my true home. This year, the day after Christmas, I planned a Cricket Match. The day after Christmas in Australia is Boxing Day, and that's when everyone gathers around the TV to watch the Boxing Day Test (Cricket) on TV - so in homage to my home traditions, I hosted a Boxing Day Cricket Match. It was a lot of fun, but made me all the more homesick.

So walllowing in my homesick state, I was delighted to come across Dearne from Mainichi, a lovely Etsy store based in Melbourne Australia. Being so far from home, whenever I come across a fellow Aussie - I feel some sort of connection with them. Dearne's lovely store is such a haven of lovely handmade wearable art. She sells really unique leather necklaces, and the cutest little felted pins. Everything has such character to it.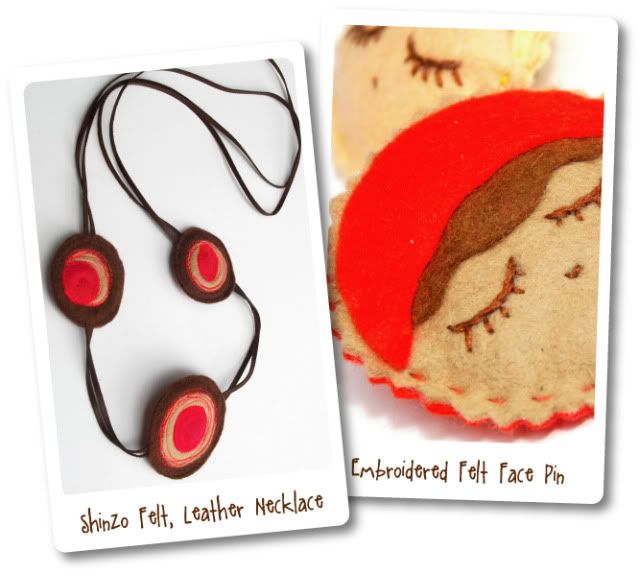 Dearne first came across the Etsy phenomenon when her friend started up an Etsy store selling toys for children. She showed Dearne the community spirit behind Etsy, and spoke about blogging and selling items online at a Creative Women's meeting that Dearne had set up. Dearne's inspiration comes from traveling, her husband and son, fashion, blogging, and her city of Melbourne. It's full of creative people, interesting architecture and unique design. She is also inspired by the Faythe Levine "Handmade Nation" DVD (watch the trailer, it definitely looks inspiring!).
Her favorite colors are combinations of bright hues tied in with a little charcoal grey, but she also enjoys mixtures of neutral shades.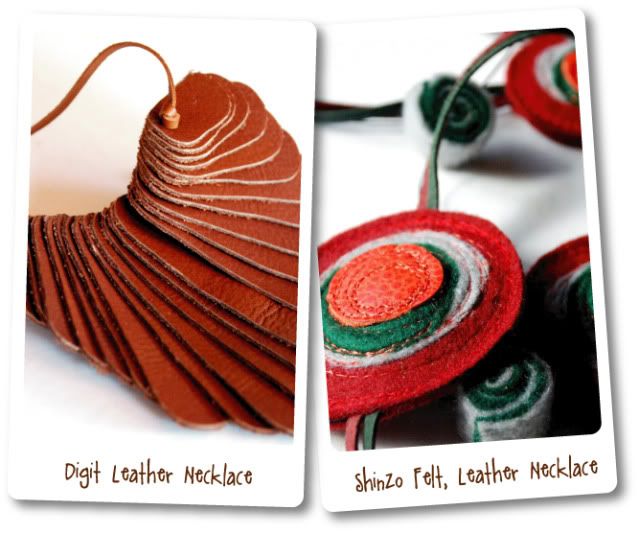 While Dearne enjoys art and creating, she also enjoys a good dessert. One of her favorites is an Aussie staple (that I miss sooo much!) - Pavlova. It's basically a meringue topped with lots of fruit and whipped cream. And when she feels like something different, her alternative favorites (because everyone needs a backup! LOL) are Chocolate Brownies and Aussie Chef Stephanie Alexander's Middle Eastern Orange Cake.

Dearne is generously giving away to prize to one lucky reader - their choice of either an Embroidered Felt Face Pin or a Digit Leather Necklace.

To enter, please leave a comment here letting me know what makes you think of home when you're away.

I will announce the winner on Sunday.

(PS. My latest article with Meylah is up. It's all about blogging and crafting etiquette. Stop by and leave some comment love!)