So as you read in my previous post, we had a great time at the Winter SoCal Blogger's Brunch.

There were great people, great food, amazing decorations by Blackbird Blue and You, and of course LOVELY Goody Bags - courtesy of some generous Etsy Sponsors. All throughout the weeks leading up to the event, I got packages in the mail filled with lovely items from talented Etsians. Thanks to them, I was able to put together some wonderful Goody Bags!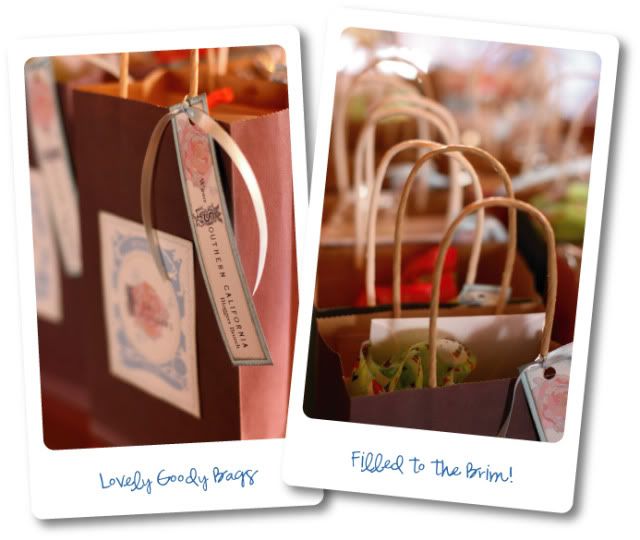 Each bag was filled to the brim with exciting surprises!



Sarah from that adorable Etsy store Crafty Folk contributed a lovely collection of her endearing pins. I love how quirky and cute each one was. I really fell in love with them all! Kelly from Kelly Is Nice completely wowed us all with her gorgeous earrings. Each pair was completely unique and absolutely stunning to behold. Even her packaging was amazing, complete with a wax seal.



Quotes And Notes is a lovely Etsy store full of sweet sentiments and eye candy, and for the Brunch, Marlene contributed some lovely wooden bookmarks with literary quotes. She then personalized the back side to say "Winter SoCal Blogger's Brunch", which was such a sweet touch. Jenn from Monkey and Squirrel added a girly charm to our Goody bags, donating some truly amazing cast iron wall hooks. I was completely in love with the lovely delicate pieces, and as soon as I got home, I hung it up in my French-themed bathroom as a pretty necklace-holder.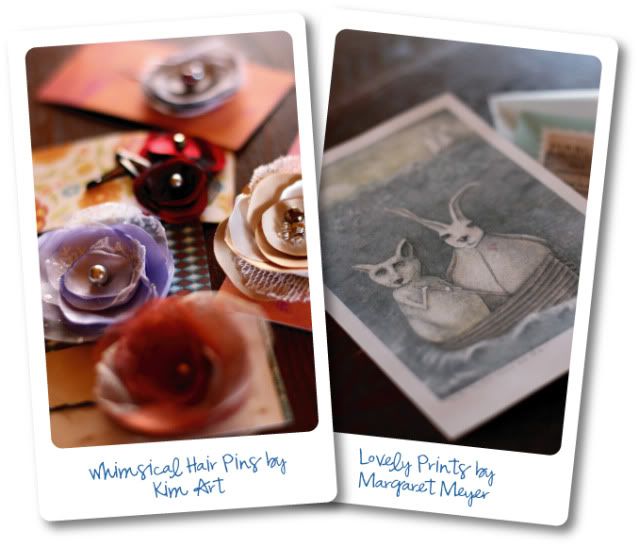 And what girl doesn't love some pretty hair bling? As well as lovely handmade cards, Kim Art donated some particularly lovely flower hair pins with layers of lace and color, so soft and delicate. Maggi popped one of hers into her hair immediately upon opening. And then there was Margaret Meyer's amazing art prints. The prints were of a lovely, whimsical scene that you'd expect to see in your favorite children's book. We all ooohed and ahhhed over this for a while.



Haruka from Designs By Takemoto contributed some adorable little plates. She created them especially for the Brunch (amazing, right?!), and they included cute images of different animals. Perfect for a little spot to rest your earrings, or even to hang up as wall decor. And then who could forget Marie from The Blue Balloon's donations?! She contributed packets of lovely hand-made doily note cards. So dainty and delicate, each depicted a different vintage image, from a typewriter to a sewing machine. They were very lovely cards indeed! And also congratulations to her - she gave birth to a lovely baby boy on New Year's Day - it was so good of her to be part of this even though she obviously had a lot on her mind!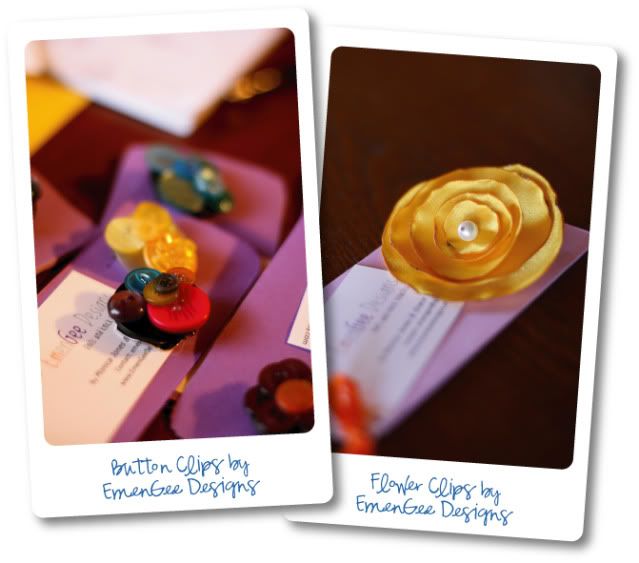 Another amazing contribution was the pretty items from Monica and Grace from EmenGee Designs. These lovely artists handmade some amazing button cluster and flower brooches. The flowers were so chic and feminine, and the button clusters were so fun and whimsical. These brooches were another lovely contribution to our stash!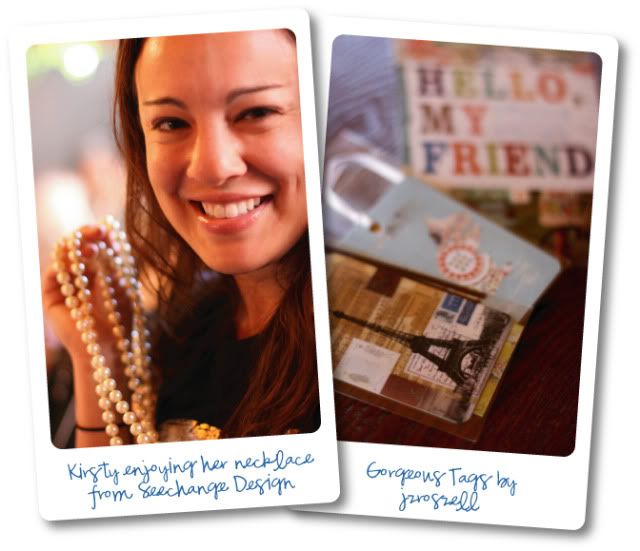 Then last but not least were the beautiful tags from Jen at Jzroszell. She sent us a beautiful array of lovely art tags, ranging from Eiffel Tower collage tags, to beautiful spring birds in flight. Each little tag was truly lovely, and are just too pretty to use on a gift - i would rather keep them as a keepsake!

Finally there was the Door Prize Bag. Lucky Kristy won this, and inside were a few amazing items from other Etsy Sponsors. First of all, Amy from the charming Etsy store SeeChange Design contributed a luxurious strand of vintage pearls that everyone there wished they had won! Next up were some lovely magnets with beautiful illustrations by Sabine from Zarou, and then to top off this lovely prize was a truly lovely photograph print by Vicki from Simply Hue. That lovely carnival scene was such a beautiful prize!


So a big Thank You to all of our fantastic Etsy Sponsors!
And now here is your chance to win some of the items from these Goody Bags! As well as a lovely Flower Place Card from Blackbird Blue and You!

To enter, all you need to do is leave a comment here telling me about the best get-together you've been to in the last month or so. It doesn't need to be a Blogger's Meetup - just anything you've been to lately that you really enjoyed. I will announce the winners Sunday, January 17.