This post title is a bit of a mouthful, isn't it?

It's that time of year already - when we're on the hunt for the perfect Christmas gift (except for you smarties who bought all your gifts earlier this year). I find great satisfaction in tracking down a gift that I know someone will love, and I love it even more when it's a gift that they don't see all the time in their local mall. That's why I love the idea of Etsy, and how each item is made with love from a person just like me across the web world. I love how when I buy something from Etsy, I am supporting a family, and not a gigantic corporation with executives that zip around on limousines to go to lunch. For those of you with Christmas gifts still to buy, I really encourage you to check out Etsy - there really something for everyone. Here's a little highlight of some of the great stores you can find in Etsyland.



Meet Nicole from
Bird In Flight Boutique
and Ting from
Tinglow
. Both of these talented ladies have gorgeous jewelry shops. Bird In Flight Boutique contains lovely vintage treasures that Nicole has transformed into gorgeous wearable art. Nicole also believes that a handmade gift is the most thoughtful gesture one could ever make, because it shows effort, time and energy - and this is obviously reflected in her stunning creations. Ting's store Tinglow is also a handmade haven of prettiness. Her store is full of pretty handmade adornments, and Ting follows the philosophy that her customers are like friends to her. She loves talking with her customers online, it makes the whole experience more meaningful to her.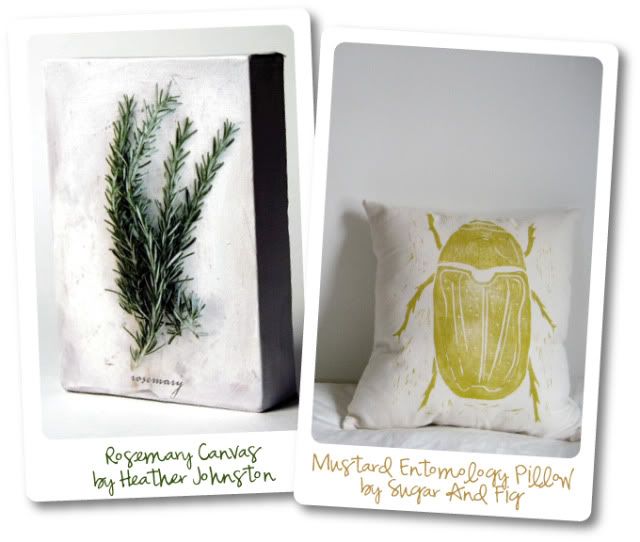 These two artists really catch my breath. Heather Johnston (from her store of the same name) and Lindsay from Sugar And Fig are truly gifted women. Heather's store is a virtual art gallery of beautiful, poignant canvas prints - she captures flowers and food so creatively, each piece is so soft and delicate. When browsing her store, food and flowers are transformed into the prettiness of ruffles and lace. Heather's inventory are all images captured from the heart, and mimic her appreciation of giving from the heart. Likewise, Lindsay's Sugar And Fig store is a dreamland of lovely art printed on various textiles. From pillows to napkins, each design is so intricate and pretty - Linsday definitely has an eye for details. She also treasures the thought that when giving handmade gifts, she is raising awareness and inspiring others to support individual crafters.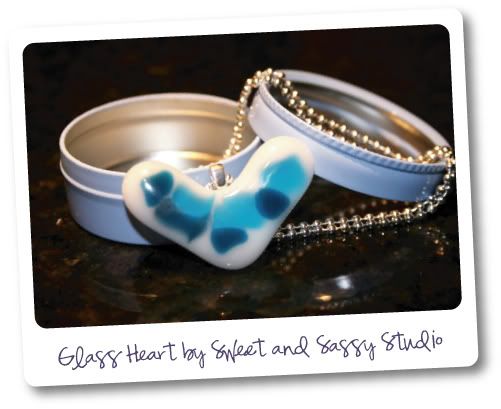 The above Lovelies are from
Sweet and Sassy Studio
and Pelpa. Sweet and Sassy Studio is a brand new Etsy store owned by Chantelle. Chantelle makes each piece of jewelry in her store, and her spunky personality is mirrored in her work. I love all the color and the meaningful words she stamps into her pendants. They would make such a lovely gift for a dear friend. Chantelle loves treasured memories and items that connect her closer to those memories, and I think her jewelry mirrors that perfectly!
Pelpa is a whimsical Etsy store owned by Flor. Her shop is filled with enchanting characters in the form of puppets and dolls, each with a personality of their own. Seeing these characters makes me think of the circus, or a fairytale, anything that takes me away from the mundane routines that clog everyday life. Flor likes that you can easily regcognize the "human trace" in handmade items, and observes that the act of giving is transformed into an act of communication when giving handmade. Like her dolls, handmade objects can speak to us.



Care to escape to a time when people were proper and polite, and left heartfelt sentiments for each other as part of everyday life? Look no further than Brookish and A New Perspective. The lovely Brooke is the face behind Brookish, and her love for Jane Austen and the 1800s is quite clear when perusing her goods. She sells a variety of prettiness from Bangles, to Stationery to Mugs, all featuring the romantic notions of a Jane Austen novel. Brooke's beautiful pieces are definitely display-worthy, and just how anyone receiving something from Brookish would treasure their gift, Brooke treasures a special ceramic man that her brother had made for her when she was eleven. The love and the care captured in that little ceramic man stays with her, even though sadly, her brother has since passed away with cancer. The other lovely store that takes us back to another time is A New Perspective

. Kelsey McCracken is the artist behind this gorgeous store, showcasing her masterful illustrative talent in the form of lovely prints. Each print features lovely depictions of 1800's women, on a rich backdrop of vintage book text to complete the vintage theme. These would look so lovely framed by a desk or in a sitting room. Like Brooke, Kelsey also treasures a handmade gift she received as a young girl. One Christmas her father gave her a lovely white doll house that he had built with great care and detail. What a great surprise to wake up to on Christmas Morning!

Here are two Etsy Sellers that know how to make a girl feel pretty: Jody from JKiyomi and Natalie from Latish Angeline. Jody's jewelry has a sophisticated elegance to it, with beautiful stones, unique metalwork and dainty embellishments. Her love for creating also extends to her gift-purchasing preferences - she enjoys buying handmade because she wants to support people in their passions. People are the happiest when creating things that they love, and Jody enjoys being part of that. Natalie from Latish Angeline also enjoys buying handmade gifts - she loves the personalized, non-commercial statement that a handmade gift proclaims. Her store, Latish Angeline is the perfect example of handmade goodness, as each of her hair pieces are one-of-a-kind, so you know that if you purchase one of her amazing hair clips, no one else in the world will have the same one. I am in love with the romantic featherwork on each of her creations.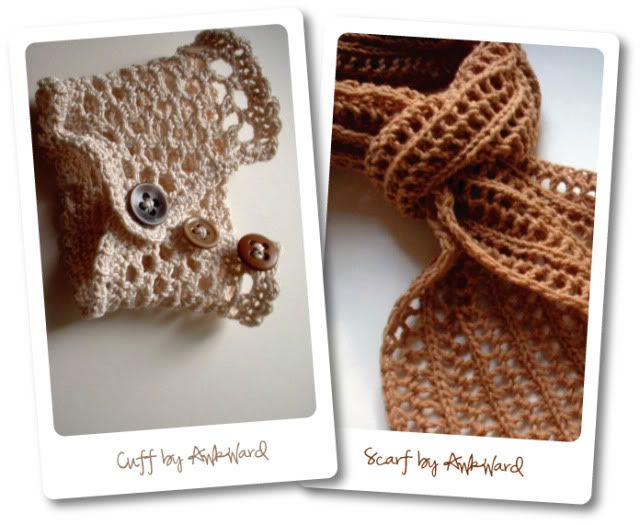 These two stores are blissfully beautiful: Awkward and Zarou. Awkward is a store full of wispy, soft hand-knitted beauty. Owner Bran knits scarves, gloves, even doilies in her wonderful Etsy corner, and her delicate style defies the clunky winter accessory heaviness, and replaces it with a romantic daintiness that you can't find in your everyday mall. Bran admires the craftsmanship of handmade gifts, and appreciates the care that individual artisans put into their work. While Awkward accessorizes you for winter, Zarou accessorizes your refrigerator. Sabine, the owner of Zarou, sells lovely, chic magnets that really are miniature artworks. Her magnets feature detailed illustrations that would make any drab refrigerator look beautiful in seconds. One of Sabine's favorite parts about handmade gifts is that in creating them, there is usually less wastage then in a big factory, and for the most part - handmade items can be more environmentally friendly. So remember that when buying handmade!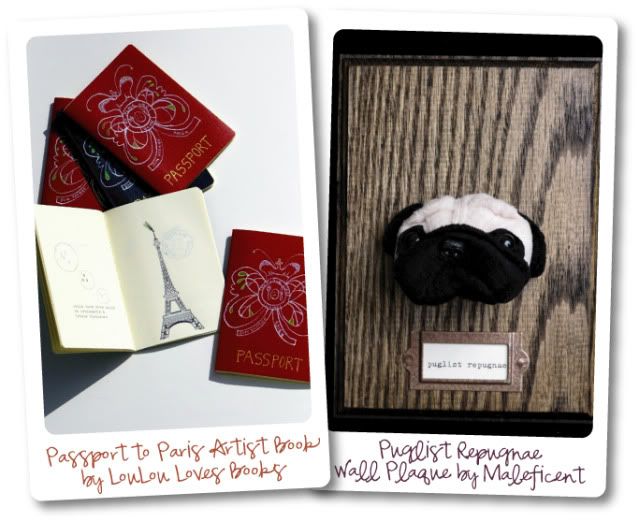 Take a peek into these stores if you are looking for something on the artistic side. While LouLou Loves Books and Maleficent are both very different from each other, they both sell art, but from opposite sides of the spectrum. In Louise's store LouLou Loves Books, you can find a beautiful selection of paper art - from books to prints to stationery. Her enchanting paperie will take you on a breathtaking journey through France, the sea, and even to inner space. Louise enjoys purchasing from Etsy because most of the sellers really like to make the recipient feel special. She notes that the packaging is often amazing because the seller is proud of their product, and puts a lot of thought and care into their store. Now let me introduce you to Bri from Maleficent. She calls herself the Beanie Baby Hunter, and sells amusing but cute mounted beanie baby heads, reminiscent of trophies or wall-mounted taxidermy. She even goes further to include a hilarious "scientific" name to each creature. Her shop cracks me up while tickling me with cuteness all at the same time - not an easy task! I would mention here Bri's thoughts on handmade items, but instead I will send you to her blog, which sums it all up quite nicely.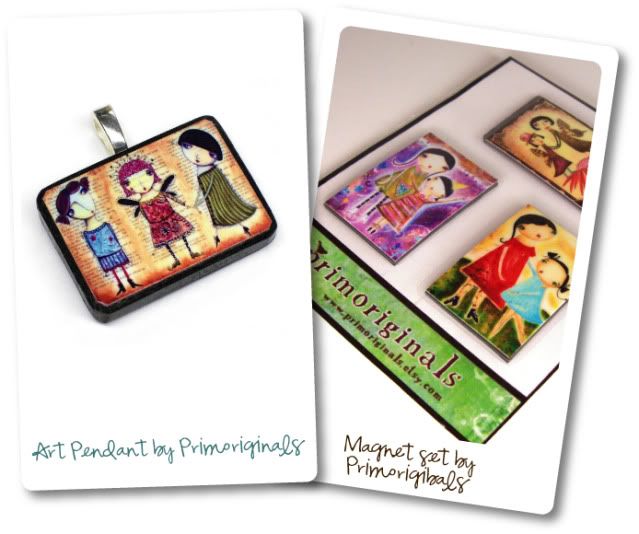 Here we have two different Etsy stores that sell lovely illustrations and designs:
Three By Sea
and Primoriginals. Nicole's store Three By Sea is like a wonderful Summertime Beach Postcard, with pretty stationery, towels and journals featuring sand dollars, and seashells, and other whimsical beach icons. Her clean design and soft color palette is so refreshing, and would make the perfect winter-time break! In addition to all this sea-life in her store, Nicole nurses her favorite gift ever received - an orchid plant that she received from her husband when they first began dating. Five years later, and it's still blooming strong! Primoriginals owner Liz also recalls her favorite gift from a loved one. Her mother gave her some lovely handmade soaps that Liz kept holding and smelling over and over - it actually inspired her to start making her own handmade soaps. While Primoriginals doesn't sell soaps, it does feature extraordinary illustrations by Liz on jewelry, postcards and dolls. Her whimsical world of characters are so charming and bright, you can't help but fall in love with each little piece.



Two shops that deserve to take a bow are Freshy Fig and Masselyn. Both of these stores captured my attention immediately with their beautiful details and fanciful charm. Freshy Fig is Amanda's store, bursting with unique jewelry that mixes vintage themes with contemporary flair. She incorporates vintage findings into her work whenever she can, each little item really does seem to tell a story. She prides in the fact that her products are made with love and aren't produced on a conveyor belt - she enjoys giving handmade gifts for this very reason. Tiffany from Masselyn also aknowledges the significance of a handmade gift. She loves working with her hands, and supports the handmade community because she sees the great value in bringing business back to home. Tiffany's darling jewelry and accessories are so pretty and delicate, they remind me of eating warm scones with cream on a bright Sunday morning.
...
These two Etsy stores really speak for themself:
XOXO Cupcake

and
My Savior Photography. I like these stores for completely different reasons. Cindy's store XOXO Cupcake is all about sugar. Just like the sweetness of a cupcake, her store is full or sweet pastel trinkets - from jewelry to headbands - when I am looking through her shop, I am like a little kid in a candy store all over again. Cindy also contributes to the etsy store Periwinkle on Bloor, which is a Toronto artists' collaboration. I just love seeing the creative community work together! And just like her store name, Cindy's favorite gifts to receive are those made from scratch - sweets! While Cindy's store takes me to a candyland, Sue from My Savior Photography's store reminds me that everyday life can be beautiful. All of her photography are slices of real life. No props or excess lighting - just all naked truth. In all her work Sue strives to remind us that God created this world and that there's lots of beauty in it if only we'd open our eyes.



Next up I would like to introduce you to Glitzer and Ruby Blackbird. I've had my eyes on these stores for a while now, and am excited to share them with you! Glitzer is owned by Charmaine, who is seriously dedicated to creating unique, high-quality jewelry. She incorporates unexpected materials in her work, and her designs are modern and cutting edge. Charmaine enjoys the exclusivity of a handmade gift, and that it's not something you see in every other store. Rachel from Ruby Blackbird's accessories have more of an old-world feel to them. She hand-embroiders brooches and pins, and I am blown away by the intricacy of each creation. Each pin seems like a treasured heirloom, definitely something to hand down to your grandchildren. Not only is her art heirloom quality, but her embroidery skills are also 'inherited'. Her favorite gift ever received was an embroidered patch made by her mother that she cherishes to this day.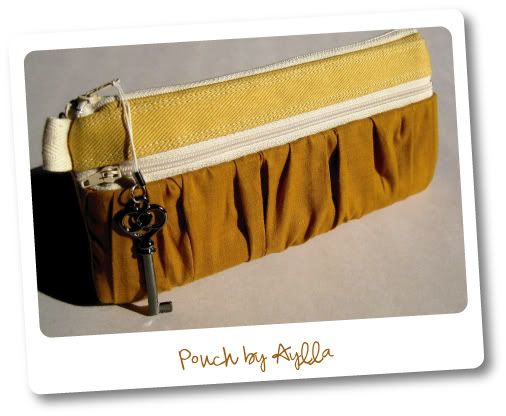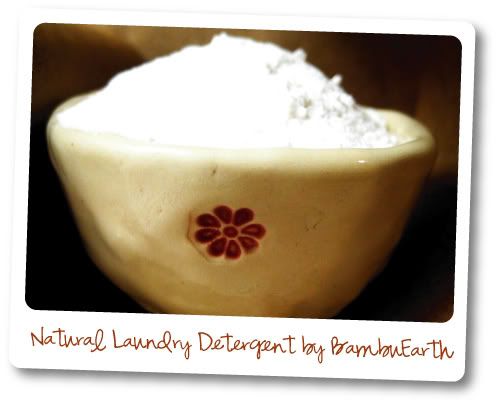 Carola from Aylla and Amber from Bambu Earth both know that a woman likes to be pampered. Carola sells lovely pouches and bags in her store, perfect for a trip to the salon, or a fun shopping date with friends. She designs and stitches each bag with care, and savors the thought that her creations make others happy. And I know that a new bag can make any woman happy! Amber from Bambu Earth sells luxurious natural soaps, so after that shopping date with friends you can come home to some tub-time with soaps from Bambu Earth. Amber uses unique scent blends and natural ingredients that are great for youy skin, so not only is her soap indulgent - but it's healthy (i only wish we could say the same about chocolate!). Amber likes to buy handmade because she knows that the person making it is receiving a fair wage and that she can ask the seller directly exactly what ingredients and materials are being used, so she knows exactly what has been used to create her purchase.



If you are like me and love sewn gifts, you will LOVE Bumblebeet and Loddelina. Sister team Sarah and Brenda are the creatives behind Bumblebeet and have a truly gorgeous collection of aprons and purses and other sewn goodies. Their clean lines and pretty fabric selections work together so nicely, and I must say that their aprons are among the prettiest I have ever seen. These sisters like that when giving handmade they are reminded of a time we never knew - before machines and converyor belts were filling factories, and that it's a simple way to show that their thoughts were on the recipient. Loddelina owner Damjana has a delightful Etsy shop with beautiful textile home decor and pretty bags. Her creations suit my taste to a "t", with her soft color palettes and whimsical shapes. I absolutely adore all of her heart ornaments! Damjana's favorite gift received was from her mother - a retyped, printed and bound collection of notes that she'd written during Damjana's childhood, complete with stories and anecdotes from all stages of their lives. What a precious gift indeed!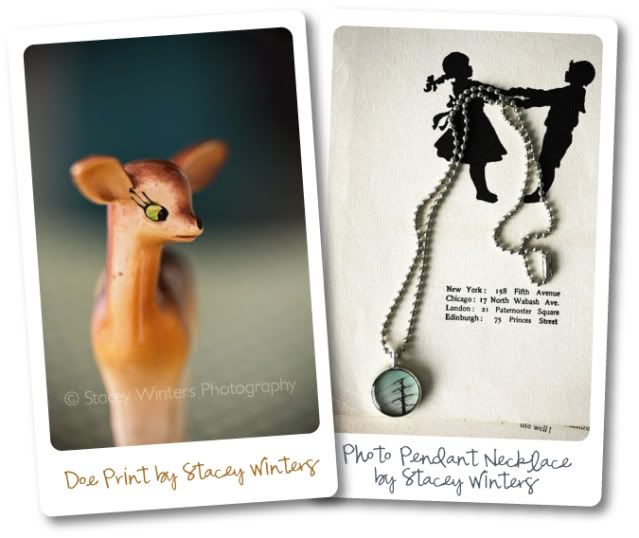 Last, but not least, I would like to tell you about Stacey Winters and Shabby N Chic. Stacey Winters' store is absolutely beautiful. She carries all my favorite things - photography, pendants, cards, notebooks.... she is a multi-talented Etsian! Her nostalgic style captures my heart and reminds me of all the things that are important in life - my family, childhood memories, friends, simple joys. Visiting her store is like opening up a present - you'll gasp with joy, I know it! Stacey loves the journey behind giving a handmade gift. From it's beginning as a creative idea, right through to seeing that vision come to life. It's that personal experience that she treasures the most. Jody from Shabby N Chic also pulls at my heartstrings with her collection of upcycled home decor. I am reminded of the simple things in life when I browse through her pretty vintage finds and lovely crafting supplies. Her store is full of inspiration and delight.

So there you have it, folks. This sums up my Holiday Gift Guide. There are lots of great sellers here, so please stop by all of their shops and support our neighbors all over the world! And now for what you've all been waiting for.... THE GIVEAWAY!!!

ALL of these goodies are up for grabs!

ALL of them!

The prizes will be split between 3 winners, and I will be announcing the winners and prize groupings on Tuesday, January 6th. So you have a month to enter, and make sure to spread the word!

To enter, leave a comment here telling me about one handmade gift that you are giving to someone this year. It doesn't need to be handmade by you, but handmade by someone, not a big company.



Yay for giving Handmade!