I like old movies. Ones where the corners of the screen are flickery, and the film shows little crinkles here and there.

Movies where women were ladies, and men were gentlemen, and they used words like "cad" and "dollface" regularly. Movies where neighbors were best friends and they'd have you over for dinner on Mondays, and you'd have them over for breakfast on Saturdays. When they called getting dressed up "putting on your fineries", and when men pulled our their handkerchiefs and offered them to a woman when she was crying.




Maybe that's why I adore The Honey Press. It's a lovely Etsy store full of items that remind me of the old movies that I love. Pretty aprons, and lovely silk-screened handkerchiefs. It is owned by Pascale, who was convinced by her boyfriend (who she calls an "avid hankie-user") to sell her pretty handkerchiefs online. From there, she has branched out to selling sock dolls, original art, pillow cases and aprons - all in her lovely style, reminiscent of an earlier time, where life was simpler, and things were beautifully prim and proper.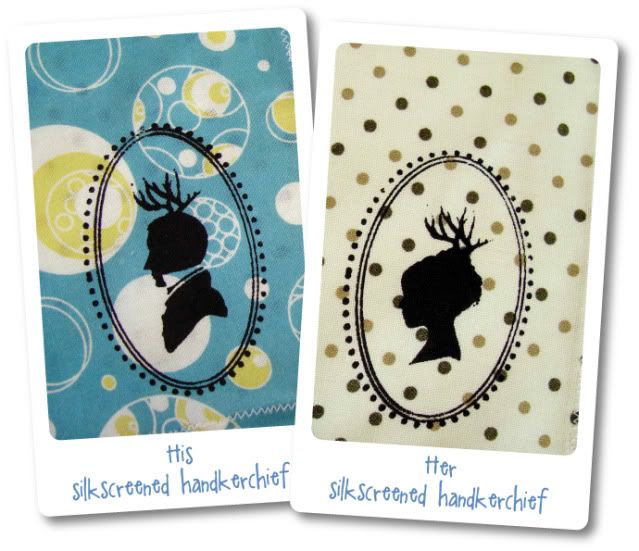 Pascale's work is inspired by fashion, reading, writing, her beau, history, and even lovely things that she can see from her window. She also is inspired by her dad's creative style. Things like the green of the golf course in her backyard, the vivid colors of her parents' garden, and the blue hues of the ocean all are sources that she draws her lovely style from.

Like me, Pascale can't commit to one favorite dessert for too long (a true Sweet Tooth never can). At the moment, it's vanilla soft serve ice cream, topped with lots of rainbow sprinkles. I like the sound of this, and might have to borrow this as my favorite dessert for the week.




Pascale is giving one lucky reader a lovely handkerchief of their choice from her store, so you too can walk around in your fineries and offer a handkerchief to someone crying. Or you could keep it for yourself, as I would probably do.

To enter, please leave a comment here, letting me know which handkerchief from her store you would want if you won, and also let me know what is your favorite thing about old movies.