My Dad used to collect foreign coins when he was a boy, and my uncle collected all sorts of vintage postage stamps.

There's something charming about collecting old things. Things that have been loved by someone else, things that you don't see often in today's world. Trinkets and plates and cups and boxes... I love the idea of collecting dainty, vintage items, and locking them away in a secret box to give to my future children. Like a little time capsule. But then there are vintage lovelies that are just too gorgeous to lock away.



........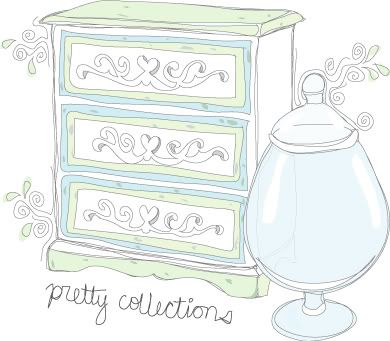 Who would be able to lock away the gorgeous items found in the lovely store Trampoline? I am seriously in love with this store. It is owned by Kim Ludy (aka ethanollie), who has a keen eye for beauty. I am not exaggerating when I tell you that I want almost every item from her store. Her store in itself is a lovely collection of dainty, delicate, beautiful finds. Everything in it reminds me of a lovely poem, tucked away in a notebook with gorgeous frayed edges, but written meticulously by hand on a lovely piece of stationery. Ah, Trampoline is sheer and utter bliss!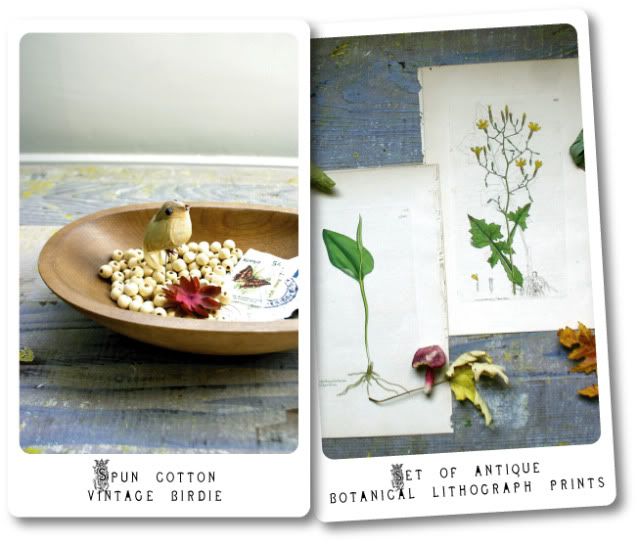 Ethanollie's lovely collection is inspired by old pictures. She scours photo blogs, magazines and art, and the lucky duck has photographic memory! She easily recalls photos she has seen online and remembers it when recreating a project or styling for her shop (isn't her shop styling magnificent?!). Color is also a big inspiration. She likes interesting color combinations that aren't the every-day, like combinations of lavender and red, or pink dotted with fragments of orange. Her taste is fabulous!




Even her taste in dessert is perfection - her favorites are anything with custartd and caramel, or a delicate fruit pie. Anything with a crust captivates her taste buds, and I must admit, now that I think about it - I agree!

Ethanollie is giving away one of three gorgeous items to one of you readers! You can choose between the following (all pictured above):
- the set of Antique Botanical Lithograph Prints (by James Sowerby, 1873).
- the Vintage Letterpress Blocks, which would be wonderful as a decor piece, or for printing sweet sentiments of love.
- the Vintage Folk Linen Dish Towel. This would look lovely as a wall hanging, or Ethanollie also suggested using it for a DIY pillowcase!

To enter this charming giveaway, please leave a comment here letting me know which of the three you would like to win, and also let me know if you have any collections of your own. I will announce the winner on Sunday.



*Product images courtesy of ethanollie



(PS. The winner of last week's Studiotto giveaway is Rhianne - yay!)
(PPS. I am guest posting today at Kotori. Come visit!)