I can't remember what it was like before now.

Next month, Brian and I will have been married one year, and I can't remember what it was like to live without him sharing the bed with me. I feel like we've been sharing the sheets for my whole life (in a good way). This time last year I was in a frenzied rush trying to finish up the wedding preparations and gathering up the last RSVP's. Brian was busy coordinating moving my furniture out to Houston in amongst all the Hurricane Ike flurry.

With this new Fall season, a lot of people I know are embarking on their new journey too. Fall Weddings are gorgeous, and the air is full of Bouquet talk, Cake questions, Music suggestions, and other Wedding Chatter.



..........


I remember one of my questions was whether or not to wear a veil. I had a very fitted dress, and while I loved the delicate and soft look of a veil, and the tradition behind it, I didn't think it would fit well with my dress. I searched high and lov for the perfect hair clip, but couldn't find anything I wanted, and ended up wearing a lovely fresh white orchid in my hair. But how typical - now that my wedding is almost a year behind me, I have found a LOVELY store I would have loved to have gotten my hair pretties from.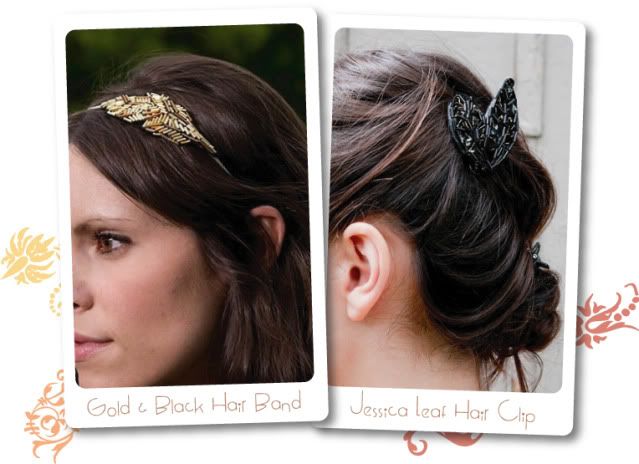 Quirky Beauty is a lovely Toronto-based Etsy store run by the inspiring and creative Dana. Dana is a Fashion Stylist, Painter and Illustrator, and her husband is a Wedding Photographer, so this combination of talent obviously lends itself well to a store that sells lovely wedding hair accessories. But their store isn't only for Wedding Pretties, they also have lovely necklaces and hair accessories for a night out on the town, or a casual get-together with friends. Either way - everything is gorgeous.



Each piece is meticulously hand-beaded with great attention to detail. I love the romantic femininity of each item, and how there's something for every personality-type in this store. Dana's inspiration is drawn from vintage fashion, British heritage (she is a major anglofile), family and textiles, and she prefers not to look at similar types of designer's work so that her vision and style are never influenced by anything but her own passions.

Another great thing about Quirky Beauty is that being in Toronto, Dana is able to source a lot of her materials locally. According to Dana, it's a great city for fashion and art and culture. In addition to a Little India and a Little Korea, it has TWO Chinatowns! From the way Dana describes this city, it makes me really want to go!

Among her favorites are colors like Tomato-red, Navy Blue, Olive Green and as for her favorite dessert - CHERRY CHEESECAKE!!!

Dana is generously giving away one of her lovely hair accessories to one of you guys!

To enter this giveaway, please leave me a comment here letting me know what you were doing this time last year, and also which of these three items you would want if you won:

1

,

2

,

3.


(photographs taken from Quirky Beauty)