Who doesn't love a peacock?

Where my aunt lives in Southern California, there are gorgeous peacocks that roam the neighborhood. They strut around the houses, delighting any tourists that might be lost on their way to the Hollywood sign, navigating the streets of suburbia. She lives near an Arboretum, so I am guessing that this must be where the peacocks visit from.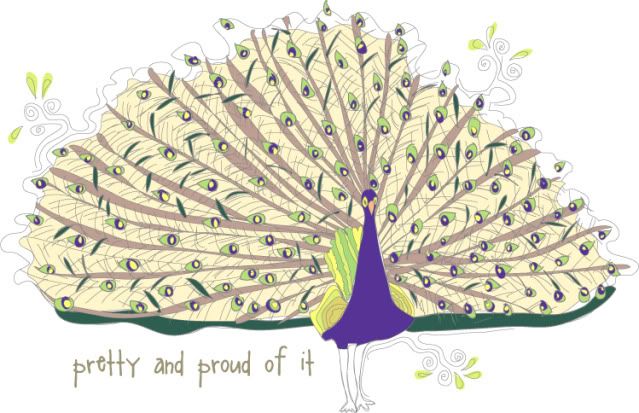 I always find it interesting that it's the male peacocks that have the pretty feathers. I laugh when I imagine if that was the case with me and Brian. I imagine him wearing a pretty frilled dress, and a lovely hue of matching eye shadow (although he did let me put makeup on him for fun once when we started dating - I have pictures stashed somewhere to prove it, hahaha!). Somehow I don't think my aunt's neighbors would enjoy seeing Brian's pretty frills as much as the male peacock's.

A lovely store that I found on Etsy specializes in all things Peacock. The Peacock Shop is operated by Paula Kathlyn and is one of the loveliest shops in all of Etsyland. She has darling little hand-painted Peacock Tea Cups, along with goreous prints, and even precious little Baby Onesies. A lot of you know by now that I love tea cups, so naturally, I was immediately drawn to The Peacock Shop.




Paula first discovered Etsy through her mum, who had told her about all of it's fabulousness. First she was a buyer, but then when she discovered she was expecting a little bublet, she decided to start her own shop so that she could make some income at home. The Peacock Shop originally started with Baby Onesies, but after researching hand-painted ceramics, Paula introduced her lovely tea cups to her pretty inventory.

As well as being Inspired by fabric, magazines, the blogosphere, and God's beautiful creation, Paula is most inspired when her head hits the pillow to go to bed. Isn't that typical? When she's ready to go to sleep - her brain switches on to creative mode. Her creativity thrives on the color blue. Her home is decorated blue, her favorite color to wear is blue, everything is blue! So of course, she has a natural affinity to our lovely royal blue peacock friends. But of course, in amongst all this blue has to be some brown - and that brown comes in the form of a chocolate brownie with vanilla bean icecream - her favorite dessert. I couldn't agree more!




Paula is the sweetest and is giving away one of her Brightly Painted Peacock Tea Cups to one of you guys.

To enter, leave a comment here letting me know what your favorite color is, whether it be blue like Paula, or something completely different.

I will announce the winner on Sunday.