When I was little, I used to love going to visit my Grandma.
She had a lovely house, with noisy wooden floors that echoed whenever I ran across it (which was often). I remember her street would have Block Parties all the time, and all the neighbors would know that we were Bruna's grandchildren. I call my grandma Nonna, which is Italian for Grandma. And like many Italian Grandma's, she had lots of delicious herbs and vegetables sprouting from her abundant garden.
.....
Nonna also had a lovely collection of old Italian jewelry. She had moved to Australia to escape the war, and had brought very few possessions, but I do remember a few pieces of jewelry that I would sneak peeks at. I love looking at old jewelry. The intricacy, the patterns, the textures, and the stories that go along with them. I visited my Nonna back in Australia about 6 years ago, and we took a long walk along the Sydney Harbour and she told me all about her life in Italy.
When I am old, I want beautiful jewelry that I can pass on to my Grandchildren. I want to go places wearing it, experience things with it on me - I want it be part of my story. And a store that has just the jewelry I would love to pass on is
Neawear
.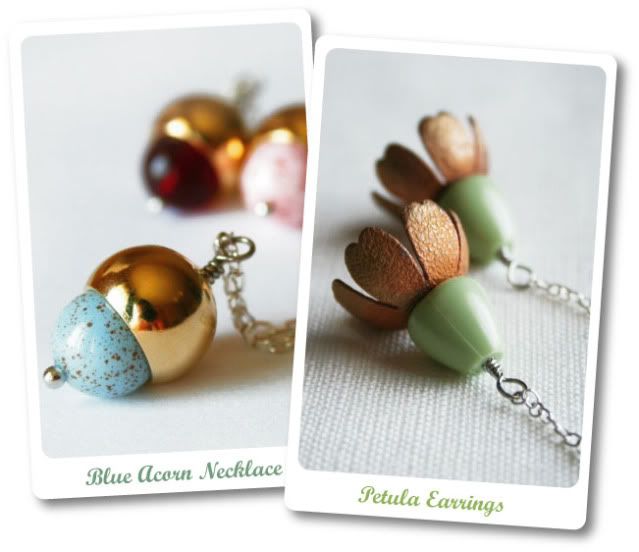 Janick is the owner of Neawear, and she creates such lovely jewelry. I want EVERYTHING in her store, it's all so delicate and delightful. And not only does
Neawear
have adornments for your wrist, neck and ears, but also for your wall! Each piece is carefully and meticulously crafted from her studio in Montreal - a city that Janick adores for it's multiculturalism, cafes and restaurants.
Textures, color and shapes are the muses that Janick follows. She is also inspired by Photography (as you can tell by her lovely shots of her products), graphic design, and even the rain! Among her favorite colors are brown and grey, which are represented well in her inventory, but hightlighted with lovely pops of turquoise, yellow and pink. And the other favorite of hers that i must mention is cheesecake. A great choice for her favorite dessert!



Janick is so generously giving away one of her Blue Acorn necklaces to a special winner! To enter this giveaway, leave a comment here telling me what story you would like your jewelry to tell. I will announce the winner on Sunday.
*Product Photos courtesy of Neawear