Music.
Laughter.
Conversation.
Traffic...

We all have our own daily soundtracks that surround us as we go about our day. For us bloggers, the clicking of the keyboard as we type punctuates our time, or in my case, it's coupled with the voices of Eisley, who I am listening to right now.



....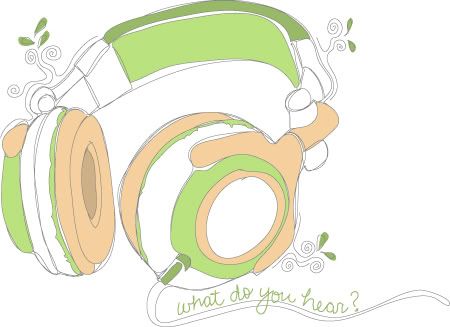 A lot of people don't like silence. Is it because it emphasizes that they are alone and don't like the thought of that? Is it because they are left alone with their own thoughts, and don't want to face them? Or maybe it's simpler than that - maybe it's just because they love their daily soundtrack, whether it be natural environment noise, or their ipod playlist. Sound is such an amazing concept. The fact that we can be moved by strings of notes, or pounding rhythms - thinking about things like this really reveals to me how much God loves us. What a mind-blowing, creative concept. Ears really are something to marvel.

And what girl doesn't like to accessorize those pretty ears? Stacy Harkins Designs is full of pretty ear adornments. All of her pieces have such mesmerizing colors. I look at her jewelry and feel like I am in Morocco on a lovely balmy night - the colors are just so rich and exotic. Stacy is inspired by the very color and shape of each stone that she uses, and from there creates a masterpiece that emphasizes those individual colors.




Also inspired by nature, Stacy studied horticulture at Cornell University - and through these studies, she has become more attuned to nature's patterns and textiles which is reflected in her work. Her favorite stones are aquamarines, pink amethyst, lemon citrine, whiskey quarts and labradorite. Stacy Harkins Designs isn't only dedicated to earrings though, the store includes lovely necklaces, bracelets and other jewelry too! Perfect for a romantic date, a fun girls night out on the town, or even to pretty up your work attire. I love each piece so much, I would even wear them around the house while I was baking, just for fun! Like me, Stacy also enjoys baking, and when I asked her what in particular was her favorite dessert - her response was her homemade peach cobbler and key lime pie. Yummo!



Stacy is giving away a pair of her stunning earrings to one City of Dionne reader (woohoo!). To enter, please leave a comment here telling me these two things:




1. What does your daily soundtrack consist of?




2. Which of these three earrings would you like to win?

Dew Drops, Lemon Drops

, or

Pink Amethyst Drops

.



I will announce the winner through random.org on Sunday.