Did you ever go on Treasure Hunts when you were little?

I used to dream of finding treasure under the sea. A heavy wooden chest, bolted tight, filled with a bounty of gold and jewels. I would imagine that I was the only person in the world that had the key to open it.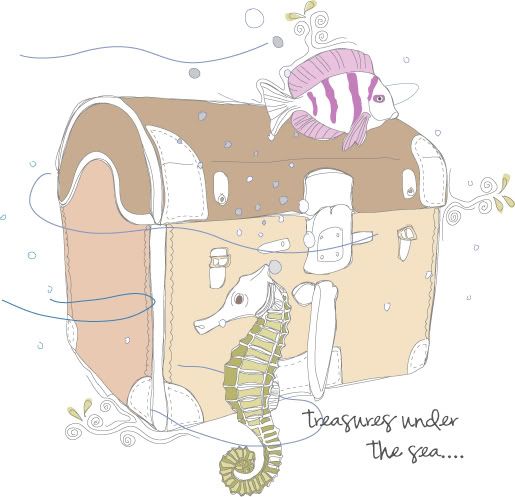 I would push aside all the barnacles and crawling seaweed, and miraculously my little metal diary key would open the old chest from centuries ago. I also imagined that I was really strong, because I was able to hoist it onto my back and swim up to the surface of the ocean, where a fishing vessel was waiting for me to take me back home with chest full of golden crowns and diamond shoes.

Another lovely treasure are these journals from Dewdrop Handmade. Gillian's store is full of lovely handmade journals with silk screened images of gorgeous aquatic life, much like the ones I would encounter in my treasure chest dreams.
When I see Gillian's journals I am immediately taken back to my beautiful dreamland under the sea
. I love how intricate and delicate her depictions of sea life are, and how beautifully put together each book is.


Her stunning journals are inspired by nature along the coast, and she loves mixing different types of materials together and putting a new spin on an old item. As well as creating these bound works of art, Gillian likes to spend her time reading, and enjoys photography and design. She also enjoys a good serving of Banana Pudding! You should also check out her lovely blog "Ticklish from a Distance". It's full of inspiring images and a little peeklet into her life.


Gillian is generously giving away a Pink Stargazer journal from her

store. To enter this giveaway, leave a comment here telling me what you would like to find in a treasure chest under the ocean. I will announce the winner on Sunday.


*Photos taken by Dewdrop Handmade