We all have our

D

a

i

l

y

Sw

e
e
ts

- those little things that make our day that little bit sweeter.

My two happen first thing in the morning.
Brian gets up at 5am every weekday to go to the gym, and then he gets back at about 6.30ish to get ready for work. Then when he's ready, he wakes me up so we can pray together before he heads off - he's my alarm clock. But in the last few weeks, he's been getting up a little earlier than 5am, so that he can just lie with me in bed and cuddle me. Sometimes I wake up, and sometimes I don't. But when I do wake up, it really sweetens my day.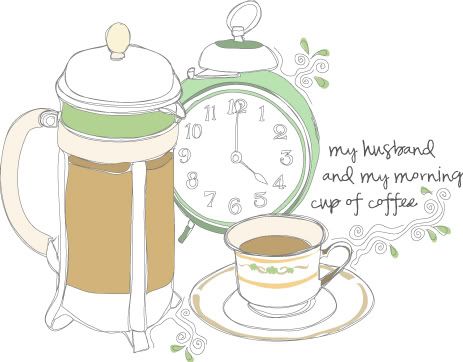 My other Daily Sweet is my morning coffee. After I have a shower, I make myself a lovely coffee and settle down to check out the blogosphere. Blogs and coffee make such a perfect little treat!

And speaking of Daily Sweets, let me introduce you to a lovely little shop that would certainly sweeten anyone's day - Sweet William. South-African born Sisters Shelley, Paula and Jeanine have teamed up to bring us a wonderland of lovely illustrations, dolls, brooches, and other delights. Paula is the illustrator in the family, while Shelley and Jeanine collaborate together to incorporate Paula's illustrations into their sweet sewn products.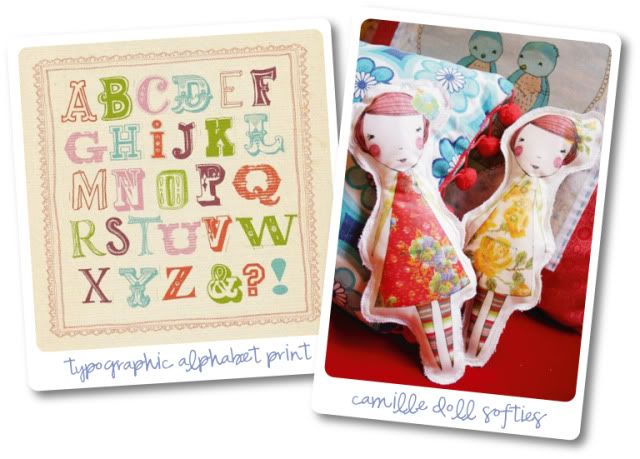 Little Daily Sweets inspire this trio of artists - trips to the market, motherhood, music, old children's books and vintage fabrics. They love to collect vintage remnants to transform into new works of art, anything from buttons to old games - they pull from a diverse range of findings.

Outside of Sweet William, these close sisters love to explore. Paula and Jeanine who live in Australia (my home country - woo!), love to go running; and Shelley who lives in New Zealand, enjoys taking road trips around her gorgeous country. And to give you a peek at their sweet tooth - they love anything that involves chocolate, syrup or meringue (lethally delicious!). They also keep up a cute little bloglet here.

These lovely sisters are graciously giving away one of their prints to one lucky reader. The winner will have their choice of any of the illustration prints in the store. To enter to win, just leave a comment telling me what your Daily Sweets are. I will announce the winner using random.org on Sunday.
*Photos taken by Sweet William