I have been listening to a lot of music lately. As I mentioned earlier, my brother Symon is visiting from California, and along with him - his music collection. So for the next month, I am being bombarded with his music tastes - some I like
(I actually enjoy listening to the Jonas Brothers, shhhhh!!!)
, and others I don't particularly enjoy.
---------
Over the past few days, after Michael Jackson's death, I have reconnected with his music and suddenly remember how awesome it is. I would have to say that Michael's music would have to be in my top three of all time. Luckily Symon agrees with this, so he didn't mind Brian injecting Billy Jean and Want You Back intermittently throughout his play list.

While listening to Symon's blaring play list against my will this afternoon, I finally put together two little packages with extra goodies from the So Cal Blogger's Lunch to give away to two of you readers who weren't able to make it. The goodies include a gift pack from Oh Hello Friend, earrings from Lush by K D'Angelo, a reusable bag from Sedilu Green, a note card set from Mufn Inc, thank you cards from Chapters by Christine, a wallet print from Gabrielle Kai Photography, a muslin drawstring bag from Paper Sprout, a matchbook note pad from Ready Go, and a print by Megan Jewel. To try to score one of the two goody packs, just comment on this post and let me know your top three music artists of all time. Those of you who already have the goodies, I'd love to know your top three anyway! I will post the two winners at the end of the week.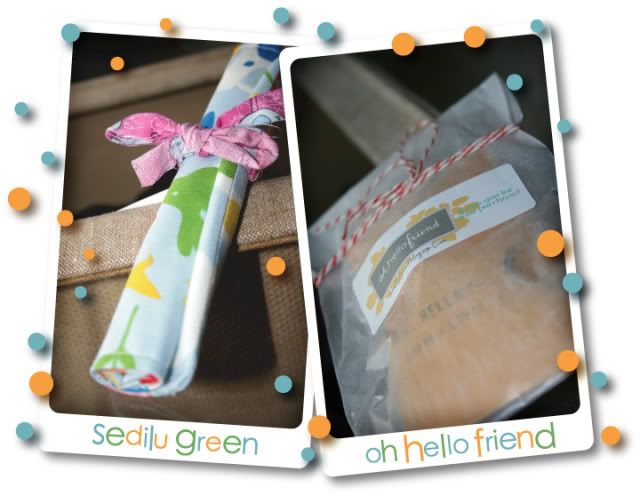 Also, I am thinking of including advertising on my little bloglet in the next few months. Nothing ugly, I promise! So if any of you are interested in sponsoring this blog, and have a shop/blog that kinda goes with the look and feel of this site,

email me at cityofdionne@gmail.com

and I can let you know my cheaperoonie rates.