So I told you all about the great time I had at the Blogger's Lunch. I was so thrilled to meet everyone and get together and talk about life. Another great thing about the lunch was that some AMAZING Etsy sponsors provided items for little goody bags for everyone and for the main Door Prize.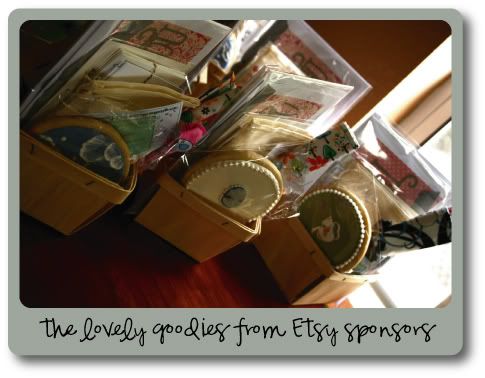 I want to thank them all! All the items were so lovely, I was so happy to see all the great things Etsian's sent. Here are the links to our awesome sponsors:



DOOR PRIZE SPONSORS

:

Photos courtesy of Oh Hello Friend
and The Kitchen Shoppe by Jenfurmishel
.
The Kitchen Shop by Jenfurmichel - Jen the owner couldn't be more down-to-earth. Just talking with her was a joy, she's soooo friendly! She sells the cutest vintage kitchen items, lots of lovely pieces to brighten up anyone's kitchen. As soon as I spotted her store, I knew that I would love for her to be part of the Blogger's Lunch sponsorship!
Oh Hello Friend - Danni has such cute little pretties in her store! Adorable jewelry, pins and hairclips - just the perfect selection of goodies! And I love her packaging, it was almost too cute to tear into, but the suspense of what was inside was what propelled me to bust it open, and it revealed even cuter contents!! Danni also contributed lovely rings and earrings to the goody bags.

SpaDelights - this shop has adorable little spa towers that would make a great gift for a friend to pamper themselves at home. Their soaps smell AMAZING, and the owners Rachelle and Dana are two of the sweetest sellers ever! I highly recommend checking out their store! Rachelle and Dana donated soaps for the door prize and lots of vouchers for the goody bags - I am so appreciative of their generosity!

Mufn Inc - Pauline has ADORABLE note card sets. They definitely are a wonderful gift or a treat for yourself, and she also has LOVELY journals and books. Not only are her items cute, her packaging is so pretty - I LOVE this store, and Pauline couldn't be nicer! Not only did she donate a lovely bound book for the door prize, but also little note card sets for all the goody bags. Please, please PLEASE check out her goodies, they are not to be missed!!!!

ShelleAnne's Splendor - Anyone looking for some cute, quirky hair clips? This is a great little store with lots of unique hair embellishments. Rachelle uses a diverse range of materials, from buttons to felt, so you know that you'll find something you love! She's a sweetheart too, and will make your shopping experience awesome!


Photos of courtesy of
ShelleAnne's Splendor and
Mufn Inc.
GOODY BAG SPONSORS

:

Sedilu Green - Dinnetta makes the cutest little reusable velcro-sealed bags. They are perfect for makeup bags, to store little bits and pieces, AND they are food-safe, so they can be used for lunches too! I love all the fabrics she uses, they are so cute!

Ready Go - We had the cutest little match pad note books in our goody bags. Nadia made them and customized them to say SoCal Blogger's lunch. Wouldn't they make a cute favor? Nadia was so easy to work with and her turnaround time was the fastest I had ever experienced with Etsy!


Photos courtesy of
Sedilu Green
and
Ready Go
.

Gabrielle Kai Photography - As soon as I saw her work, I knew that I wanted her to be part of this Blogger's Lunch, and thankfully she was excited to be a sponsor. I love the composition and subjects of all her images.

Lush by K D'Angelo - I FREAKED out when Keri agreed to be a sponsor for the lunch. Her jewelry is STUNNING! The earrings she donated to the lunch were all so lovely, I wanted to keep them all for myself!


Photos courtesy of
Gabrielle Kai Photography
and
Lush by K D'Angelo
.

Chapters by Christine - I can't even express how lovely the cards that Christine makes are. They all have such lovely colors and cute embellishments, and when you look at them, you can tell that a lot of love and work has gone into creating them. Such a pretty canvas to write your love and sentiments to friends and family.

Paper Sprout - Dana is awesome. She customized some cute drawstring muslin bags to say "SoCal Blogger's Lunch", and they all came out so pretty! Her etsy store is such a great find. I am definitely going to be going back to her shop - it's filled with lovely little baggies, magnets, pendants, SO MANY things. And she just graduated! So congrats, Dana!

Megan Jewel - Another awesome Etsy paperie. Megan has just recently opened up her shop, and already it's filled with lots of unique note cards that I have never seen anything like before. She has a fun and quirky style, and all of her pieces are just GORGEOUS!!!!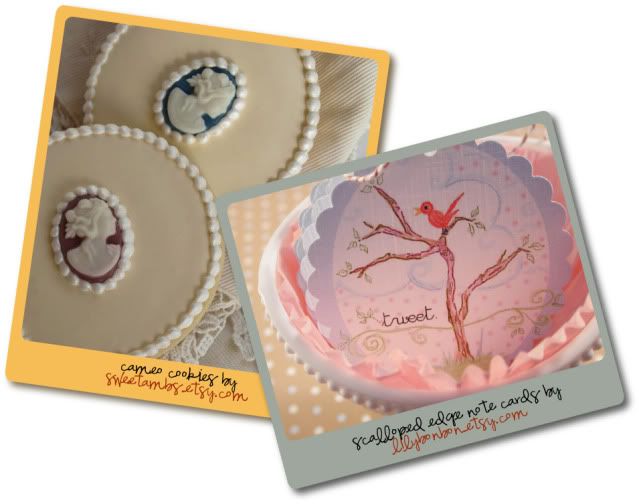 Photos courtesy of
Lily Bon Bon and
Sweet Ambs.

Lily Bon Bon - I actually met Lynn through her blog, she's one of my favorite reads, and found her amazing etsy store through that. I fell in love with her little bird tags, and all of her other lovely items that have that whimsical woodland feel to them. A great store for sure!

Sweet Ambs - The prettiest cookies you will ever find are right here. You won't believe how gorgeous they are - literally edible works of art. I don't even remember how I came across Amber's store, but I am glad I did. Her cookies include illustrations of teacups, baskets, flowers, and all sorts of pretty things.



BOY GOODY BAG SPONSOR:



Mandaleighf Designs - Especially for the boys, sweet Amanda donated cute magnets of lobsters and moose heads. I wanted them for myself, they were adorable! Check out her store for fun little items, each with a quirky personality.

So as you can see, we all scored! Thank you so much to all these wonderful Etsians who contributed to our day! Go and check out their stores - I am sure you will find lots of lovely things. And keep your eyes peeled - next week I will be hosting a giveaway with items from some of these sellers!


*All prize photos taken by the stores they came from