Happy Hump Day, people!


I am sure that most of you have purchased from, or at least have heard of the wonder that is Etsy. I love how it encourages and supports artists from all over the world who want to earn an income doing what they love. I first heard about Etsy in the middle of last year. I was looking up ideas for Bridesmaids gifts for my wedding, and I noticed a lot of people were talking about this thing called Etsy. So I checked it out and immediately got excited about all the handmade goodies people were selling.




I stumbled upon Pamela's lovely store 'PamelaSusan' and immediately knew what I wanted to include among my gifts for my bridesmaids. It was a very dark, almost oily green Freshwater Cultured Coin Pearl necklace with a Poppy Topaz set in the middle. I then noticed that she also had a birthstone collection, where she personalized white pearl necklaces with birthstones, so I asked if she could put my Bridesmaid's stones in the green pearl. They looked LOVELY!
So when my mum asked me what I wanted her to get me for my own wedding necklace, I chose something from Pamela's store again, and here it is:

I had such a great experience with Pamela, she was so friendly and sweet (you can also see how lovely she is in her blog). God has definitely blessed her with great talent - not only does she make jewelry, but she makes pottery for fun too! With her jewelry, she makes most of it at night once she's put her two lovely little chickadee kidlets to bed, and another tidbit - her favorite dessert is a good old Apple Crisp with vanilla bean icecream dumped on top. Yum!

Another Etsy jewelry artist that I love that I have only just discovered in recent weeks is Niki from 'StellaAndLux'. Niki is vibrant, and fun-loving and it reflects through her jewelry. One of her earliest childhood memories is making necklaces at her kindergarten birthday party with neon plastic beads, so it seems that jewelry was in her destiny! I fell in love with the daintiness yet randomness of her jewlery. The beads aren't in a pattern, but yet they all seem like they're in the perfect place. I am wearing one of her bracelets right now, and it looks like something out of a pretty dream - here it is: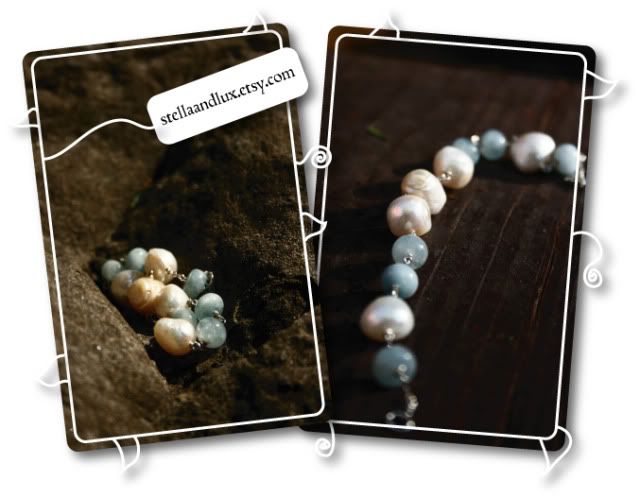 And again, because I love dessert so much - I had to find out what Niki enjoys - and she's a caramel apple girl, all the way!

So now that I have shared with you my two favorite Etsy Jewelry artists - who are some of yours?